Explosion Aboard Indian VLCC Leaves Three Missing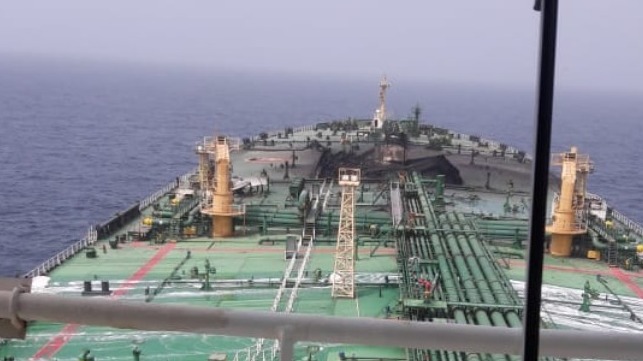 The Shipping Corporation of India reports that the VLCC Desh Vaibhav has suffered a cargo tank explosion while under way off the coast of Oman. The blast left one injured and at least three missing.
An image from social media (top) claims to show damage to the Vaibhav, including a ruptured deck above a cargo tank forward. The layout of the deck equipment and the livery colors in the image correspond to pre-accident photos of the Vaibhav.
"As per latest status, the fire has subsided and a fire fighting vessel is expected to reach the vessel shortly to cool down the tanks," the firm said in a statement.
The injured crewmember was evacuated by helicopter, and the vessel remains manned and operational, SCI said. The Vaibhav has requested assistance from the Omani Navy and from other nearby vessels.
In a separate account, the Wall Street Journal reports that at least four crewmembers jumped overboard to escape the fire. A search effort for the missing seafarers continues.
The tanker is reportedly in ballast and was under way for Fujairah at the time of the explosion. As of Tuesday evening, she was drifting about 45 nm off the coast of Muscat, Oman, broadcasting a status of "not under command."