Evergreen and CIP Partner to Explore Green Fuels Produced in Taiwan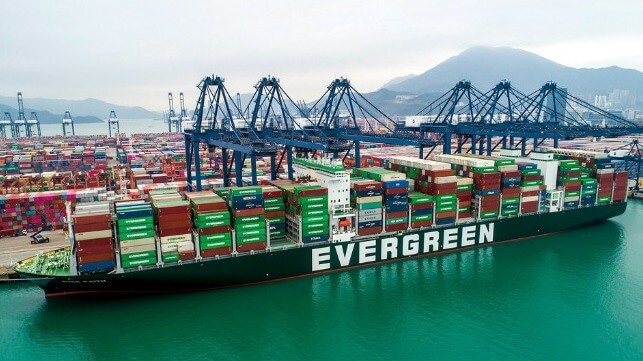 Evergreen Marine is teaming up with one of the world's largest fund managers, Copenhagen Infrastructure Partners (CIP), to explore the development and production of green fuels in Taiwan to be used to help the carrier decarbonize its operations. The world's seventh-largest container carrier will collaborate with one of the funds from the investment company, which is well-known for its activity in greenfield renewable energy to explore the opportunities for hydrogen-based marine fuel development.
With more than 200 container vessels deployed around the world, Evergreen highlights the challenges it faces to meet its decarbonization targets. The carrier highlights that it may require a range of different fuel types.
Evergreen admits that the decarbonization of such an operation is a major undertaking. The company ranked behind other operators in Asia at the beginning of 2023 according to Xeneta when the market intelligence platform launched its Carbon Emissions Index (CEI) tool measuring the performance of major carriers on the main Far East to South America East Coast container corridor. Peter Sand, Xeneta's Chief Analyst cited Evergreen's "smaller, less carbon efficient vessels" saying they were impacting the company's rating as well as Xeneta's data that showed "their ships sailed much faster, with speeds of 8.9 percent above the trade lane average."
The carrier however showed in its 2022 Corporate Sustainability report that it had achieved a 61.98 percent lower than the base year of 2008 performance for CO2 emissions. They cited also achieving a decrease of 22.4 percent in NOx emissions and a 22.1 percent decline in SOx emission rates in 2022 versus 2021.
The new cooperation with CIP will incorporate several aspects, including the production of e-fuels in Taiwan based on offshore wind. It will also explore a broader supply of green fuels, such as e-ammonia and e-methanol.
"CIP already has a strong footprint in Taiwan, and we are looking forward to working with Evergreen to further support Taiwan's ambition of realizing its 2050 net-zero goal," said CIP Partner Felix Pahl. The investment company's funds are currently involved with constructing and developing several offshore wind farms in Taiwan with strong ties to the Taiwanese industries and society.
The partners noted that Taiwan has good conditions for offshore wind. With growing government support for decarbonization, they believe Taiwan has the potential to become a producer of future fuel types.