EV Manufacturer Pays Wallenius Wilhelmsen to Use Biofuels Shipments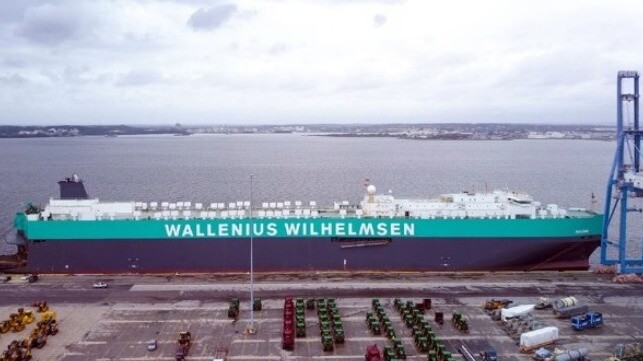 A major EV manufacturer is entering into a shipping agreement where they are going to be paying the additional cost of using environmentally-friendly biofuel for the transportation of their products. The agreement is with Norway's Wallenius Wilhelmsen and follows the Ro-Ro shipping company's announcement that they have contracted for an initial supply of biofuels for their fleet.
The contract is the latest example of carriers working with their shippers but passing along the increased cost of the environmentally-friendly operations to the customer. Tanker companies and container carriers have offered customers the option of contributing to funds for biofuel or carbon offsets for their shipments and starting yesterday passenger ferry operator Viking Line also began offering passengers the option of paying an additional fee to reduce the carbon footprint for trips between Sweden and Finland.
"We will prioritize customers who are looking to work with us both on land and at sea, and who share our ambition to reduce emissions in the supply chain," said Pia Synnerman, Chief Customer Officer at Wallenius Wilhelmsen announcing the new contract with the EV manufacturer.
The shipping and vehicle logistics company declined to name the customer only saying that the agreement runs through the end of 2025. The contract includes both land and sea services from Asia to Europe, as well as from Asia to North America at rates that Wallenius Wilhelmsen said "reflect the current strong demand and tight balance in the market." The contract includes the agreement to use and pay for biofuel.
"The manufacturers of electric vehicles that we talk to have high ambitions to further strengthen their decarbonization efforts," said Synnerman. "I am therefore pleased that we have signed a contract with a major EV manufacturer which includes payment for biofuel."
The company, which operates around 125 vessels, announced that it has begun an agreement with ExxonMobil to supply biofuels. The first delivery is scheduled for July 2023 with the product containing 30 percent biofuel and 70 percent conventional fuels.
Wallenius Wilhelmsen says it is the best available option today to begin the transition to decarbonize its operations. They noted that the overall supply of biofuels is limited but expect to help grow the supply through agreements such as the deal with ExxonMobil and by building demand from customers.