EU Unveils Roadmap for Port Infrastructure Support to Namibia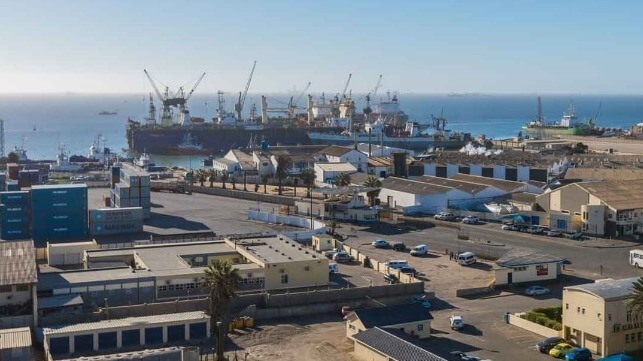 Almost a year after the EU and Namibia signed an MoU on developing supply chains for rare earth metals and green hydrogen, the two partners have announced the next steps with concrete actions to advance their energy transition partnership.
On the sidelines of the EU- Namibia Business Forum held this week in Brussels, European Commission President Ursula von der Leyen endorsed a 2023-2025 roadmap, which will act as a guide in supporting Namibia's fledgling renewable energy industry.
During the period, the EU will make an investment of over one billion euros and support an upcoming study for the development of the Port of Walvis Bay into an industrial and logistics hub. In an interview back in August, Namibian Ports Authority (Namport) CEO Andrew Kanime projected that the port expansion works in the country needed around $2.1 billion to reach the desired capacity for energy exports. Walvis Bay would take up much of the expansion efforts.
In addition, the EU will also work with the Port of Antwerp and Bruges International to develop a master plan, which covers multimodal infrastructure, spatial planning and market organization for the Port of Walvis Bay. A key feature of this deal is the development of the Walvis Bay-Maputo Corridor, a coast-to-coast corridor linking the Atlantic to the Western Indian Ocean. The route is critical in serving the Southern-Central Africa copper belt. With copper increasingly in high demand from renewable energy industries, efficiency in shipment of the metal is now a matter of great interest.
The Dutch government has also commissioned a feasibility study for the expansion of the Lüderitz port, located 250 nautical miles south of the Port of Walvis Bay.
"The EU needs to secure a sustainable supply of raw materials, especially those critical in delivering the green and clean energy objectives. As part of the Action Plan on Critical Raw Materials, the Commission is already building partnerships with resource-rich third countries," said EC in a statement.
In June, Namibia banned export of unprocessed lithium and rare earth metals. Industry stakeholders have pointed out that such a directive would be beneficial if Namibia had the necessary industrial and logistical capacity.
In a meeting for mining executives this week in Namibia, Joe Walsh, the managing director of lithium processing company Lepidico said his firm will be processing battery-grade lithium at its plant to be built in Abu Dhabi, ostensibly because of the city's proximity to industrial and logistics hub. Lepidico has an ongoing lithium mining project in the Karibib region of Namibia.
"Abu Dhabi offers immediate logistical efficiencies, an established industrial park with available shared infrastructure. This is a very good example of efficient and effective infrastructure that would be a huge benefit if it was installed, say, at Walvis Bay in Namibia," Walsh elaborated.
Indeed, the EU-Namibia partnership is essential in developing the large-scale infrastructure projects needed to support local metals processing and export. In return, Namibia is poised to supply the EU bloc with green hydrogen and minerals needed for clean energy technologies.