EU Parliament Calls for Port Restrictions Over Kerch Strait Incident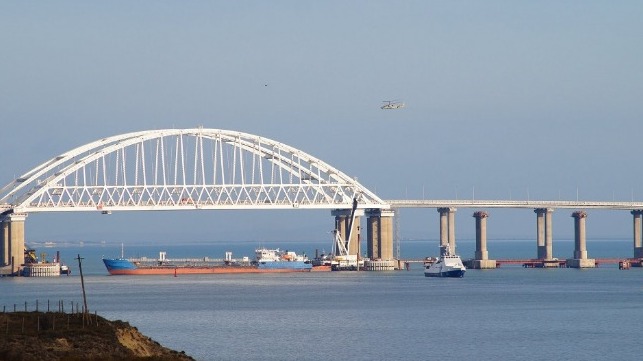 On Wednesday, the European Parliament passed a resolution calling on the EU to close European ports to Russian vessels arriving from the Sea of Azov in retaliation for Russia's recent seizure of three Ukrainian naval vessels.
On November 25, Russian forces fired on and seized two Ukrainian gunboats and one tug after the Ukrainian vessels tried to pass under the Kerch Strait Bridge. They detained 24 Ukrainian sailors in connection with its seizure, and several have been charged with "breaching Russia's borders," according to state media. Three sailors sustained "soft tissue injuries" and received treatment in Crimea.
The altercation came after a period of heightened tensions between Moscow and Kiev over allegedly excessive Russian inspections for merchant shipping in Kerch Strait. The narrow waterway connects the Black Sea with the Sea of Azov, and a bilateral treaty ensures that Ukrainian vessels have the freedom to navigate through it. Russia denies that this freedom exists, and it asserts that the Strait lies within the Russian Federation's sovereign "state border."
Citing these concerns, the EU Parliament called for "targeted sanctions" in the event that Russia does not return the crews of the three Ukrainian Navy ships or in the event of any further military escalation. It warned that the recent actions appear to be a "creeping attempt to annex Ukraine's sovereign rights in the Sea of Azov with the aim of transforming it into a Russian 'internal lake'." (In the Cold War era, the Soviet Union maintained that the Sea of Azov was part of its "internal waters.")
Instead, the parliament called on Russia to ensure freedom of navigation through the strait. If it does not, the body said, it will call "on the EU and its Member States to close access to EU ports for Russian ships coming from the Sea of Azov" in retaliation.
Kerch Strait Bridge
Russian contractors completed a new bridge across the Kerch Strait in May, providing a road connection between contiguous Russian territory and Russian-occupied Crimea. The bridge creates a new constraint on navigation through the Strait, according to the European Commission: its navigable span is 750 feet wide by 115 feet high, and the dredged channel through the strait has a navigable depth of about 26 feet.
Ukrainian military intelligence sources assert that Russia has been using the bridge to transport military equipment onto the Crimean peninsula, including tanks and armored vehicles, with multiple convoys observed in recent weeks.