Environmental News Roundup: Balloons, Fraud and Graphic Campaigns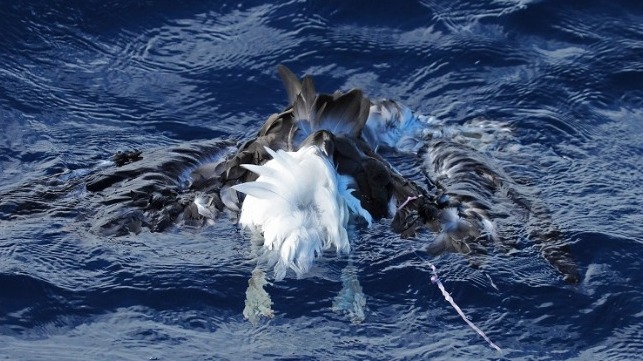 A round-up of last week's marine environment news includes a range of research and initiatives involving balloons, fraud, women in fisheries and images of "tortured" animals.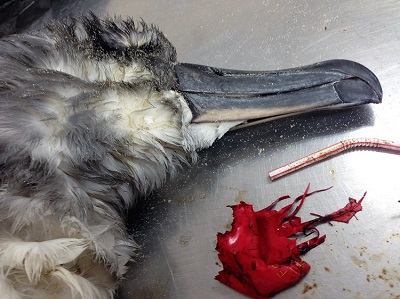 Balloons the Number 1 marine debris risk of mortality for seabirds
In Australia, a new Institute for Marine and Antarctic Studies (IMAS) and CSIRO collaborative study has found that balloons are the highest-risk plastic debris item for seabirds - 32 times more likely to kill than the ingestion of hard plastics.
The researchers looked at the cause of death of 1,733 seabirds from 51 species and found that one in three had ingested marine debris. The data showed that a seabird ingesting a single piece of plastic had a 20 percent chance of mortality, rising to 50 percent for nine items and 100 percent for 93 items.
The study found that although hard plastic accounts for the vast majority of debris ingested it is far less likely to kill than soft plastics such as balloons. Although soft plastics accounted for just five percent of the items ingested they were responsible for more than 40 percent of the mortalities.
Similar research into plastic ingestion by sea turtles has found that while hard plastic fragments may pass quickly through the gut, soft plastics are more likely to become compacted and cause fatal obstructions.
Oceana finds over 20 percent of seafood samples mislabeled
Oceana has released the results of a new seafood fraud investigation, finding that one in every five fish tested was mislabeled. Oceana collected more than 400 samples from over 250 locations in 24 U.S. states and the District of Columbia. One out of every three establishments visited sold mislabeled seafood, and seafood was more frequently mislabeled at restaurants (26 percent) and smaller markets (24 percent) than at larger chain grocery stores (12 percent). Of the species tested, sea bass and snapper had the highest rates of mislabeling.
Last year, the federal government required traceability for seafood at risk of illegal fishing and seafood fraud. The Seafood Import Monitoring Program currently only applies to 13 types of imported fish and only traces them from the boat to the U.S. border. Between March and August 2018, Oceana tested popular seafood not covered by this program.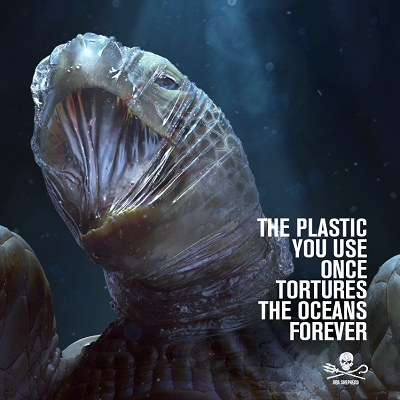 Sea Shepherd uses graphic images to fight against plastic in the oceans
Sea Shepherd is launching a plastic awareness campaign based on depictions of "tortured" animals.
3D ads have been created in partnership between Tribal Worldwide São Paulo and DDB Guatemala, that bear the caption, "The plastic you use once tortures the oceans forever." The ads show different marine animals such as seals and turtles in extreme agony after coming in contact with plastics from items used in daily life. The 3D production was developed by Notan Studio.
In addition to the print and posters, social media and digital media pieces have been developed, and the online content also highlights tips to reduce the use of plastic on a daily basis.
Sea Shepherd carries out beach clean-ups worldwide. The U.S. branch of the organization has a campaign entitled "Operation Clean Waves," which collects marine debris that accumulates on offshore islands and in the middle of the ocean. Sea Shepherd also works with scientists to study the effects of microplastics on marine species.
"Scientists warn that in 2050 there will be more plastic in the oceans than fish in the sea," said Sea Shepherd founder and president Captain Paul Watson.
Ghana's fishing industry needs women's voices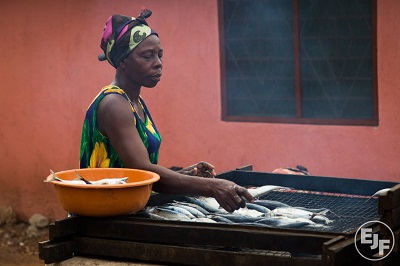 Women play a crucial role in Ghana's fisheries and the current crisis in the country's fish stocks cannot be fully solved without their input in decision making, says a report released by the Environmental Justice Foundation (EJF) and partner Hen Mpoano.
The new report, released on Friday on International Women's Day, highlights the powerful roles of women in Ghana's fisheries. Women own canoes and finance fishing trips by paying for fuel, and in the Greater Accra and Volta regions, women are out on the river with the men, fishing and catching clams.
The Konkohemaas – queen fishmongers – preside at the landing beaches, speaking on behalf of the other women to negotiate the price of fish, or mediate issues with fishermen. By funding fishing trips, women have traditionally secured themselves a portion of the catch. But now, with fish stocks at crisis point, old community relations are fraying, and fish instead go to the highest bidder.
Women play a key role in the fisheries and stand to lose just as much from the crashing fish stocks, yet they have little control or even input over fishing practices. Collective action is required to improve the state of Ghana's fisheries, the report states, and that means women's voices are needed in discussions about the future.
Recognising that gender equality and environmental regeneration are intimately linked, the Far Dwuma Nk?do Project – initiated by EJF and Hen Mpoano in 2017 – has been working with local fishing communities to give marginalized women's groups a greater say. One such group is the National Fish Processors and Traders Association (NAFPTA), which was formed by the West Africa Regional Fisheries Programme as an important first step in bringing women together to demand better representation.
The report calls for the strengthening of NAFPTA at both national and community level. Increased use of Village Savings and Loans Associations could create a buffer for the low season and provide emergency relief – for school fees and sickness costs, for example. Along the beaches, women should be encouraged to become actively involved in the fight against illegal fishing. And crucially, fishing regulations must be closely observed to restore the powers of the Konkohemaas.
"Women fisherfolk are a vital part of Ghana's fisheries," says Director of Hen Mpoano, Kofi Agbogah. "We need their input to create the lasting, sustainable change that will save our fish stocks."
Captive Marine Mammals Situation Improving in West
The tide is turning in the West for captive marine mammals, yet live capture operations, traveling dolphin shows, polluted sea pens and needless deaths of animals continue to mar the captivity industry around the globe, especially in Asia, according to a report co-produced by the Animal Welfare Institute (AWI) and World Animal Protection (WAP).
The fifth edition of "The Case Against Marine Mammals in Captivity" states that while a paradigm shift is well underway in the West, with many countries prohibiting the display or breeding of cetaceans for entertainment or banning and restricting the trade in live cetaceans, live capture of free-ranging marine mammals, particularly cetaceans, continues. The capture hotspots in 2019 are Russia (belugas and orcas) and Japan (multiple dolphin species). The principal market today is China, where the number of ocean theme parks has jumped from 39 in 2015 to 76 in early 2019.
The main concern for marine mammals in captivity is the artificial and barren nature of the environment, particularly the amount of space provided. In the wild, cetaceans can travel 40–100 miles a day, achieve speeds of 30 miles per hour, and dive hundreds of feet deep. Even in the largest facilities, cetacean are provided less than one-ten thousandth of one percent of their natural habitat range.
Concern about swimmer safety and dolphin welfare has led several tourism companies, including TripAdvisor and Virgin Holidays, to end or restrict their promotion of swim-with-dolphin attractions.