Engine Room Fire Forces Marella Cruise Ship to End Voyage Early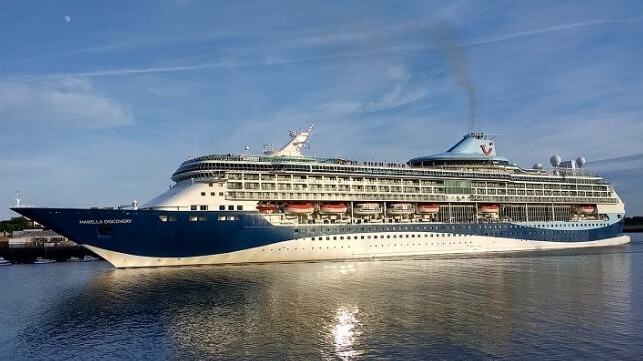 The cruise ship Marella Discovery is temporarily stuck in port in the Dominican Republic after suffering an engine room fire, the company confirmed in a passenger memo.
On the evening of July 6, the TUI Cruises vessel Marella Discovery departed the port of Amber Cove in the Dominican Republic, bound for the Turks and Caicos. At 0130 hours on July 7, a small fire broke out on one of the ship's five engines. The crew quickly put it out, and no injuries were reported.
The Marella Discovery headed back to Amber Cove to await the arrival of third-party inspectors, who will have to fly in to meet the ship. This prevents her from returning to her home port of Port Canaveral on schedule, and the next cruise on the vessel has been canceled.
About 1,800 passengers were aboard at the time of the incident, and all who boarded after July 2 will receive a full refund, according to TUI. Those who had been aboard since June 25 will receive a prorated discount.
All 1,800 will need to be flown out of the Dominican Republic back to their country of origin - the UK, as Marella operates package cruises for British residents - and it was not immediately clear how long this would take. "It's not a decision we've come to lightly but it is clear we simply cannot offer you a suitable itinerary," Marella Cruises said in a letter to passengers. "This is a big logistical operation and we appreciate your patience as we make all the necessary arrangements."
Marella Discovery remained docked in Amber Cove as of Monday, according to AIS data. According to parent company TUI UK, the ship should be back in service by July 16.
The Marella Discovery (ex name Splendour of the Seas) was built at Chantiers de L'Atlantique in 1996 for Royal Caribbean. She sustained a previous engine room fire in 2015, before she came under TUI's management. This incident took longer to put out, and passengers were ordered to their muster stations, according to UTV. Royal Caribbean confirmed that one guest and 19 crewmembers were treated for smoke inhalation during the 2015 incident.