Endangered Iguanas Found Captive in Cruise Ship Cabin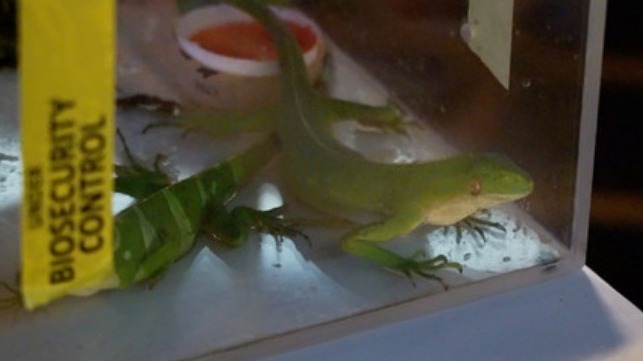 A man is facing charges after he allegedly attempted to smuggle two endangered iguanas into Australia on board a cruise ship.
The Australian Border Force (ABF) was notified by the vessel's crew of a 49-year-old Australian passenger who had been found to be in possession of two live Fijian Banded Iguanas. Officers boarded the ship when it came into port in Sydney and conducted an examination of the man's room and his luggage.
Investigators allege the man acquired the reptiles during a stop in Vanuatu.
ABF Regional Investigations NSW spokesman Superintendent John Fleming said the ABF would continue to work with its partners to stop the impact wildlife-related crime can have on global biodiversity.
"Sadly there are people in Australia who are prepared to pay large sums of money for exotic and rare wildlife products – but these people should know we are alert to their activities. These iguanas are beautiful animals, and it's obvious why they are appealing to wildlife smugglers. Working with our partners, the ABF will continue to do all we can to put a stop to this cruel trade."
Acting Head of Biosecurity Operations at the Department of Agriculture and Water Resources, Mark Simpson, said illegal imports of exotic animals can introduce devastating pests and diseases and, as such, pose a significant biosecurity risk to Australia.
The matter is subject to ongoing investigation. Offenses relating to the importation of CITES listed wildlife under the Environment Protection and Biodiversity Conservation Act 1999 carry a maximum penalty of 10 years imprisonment and a fine of up to A$210,000 ($150,000).