Eastern Shipbuilding Launches First Offshore Patrol Cutter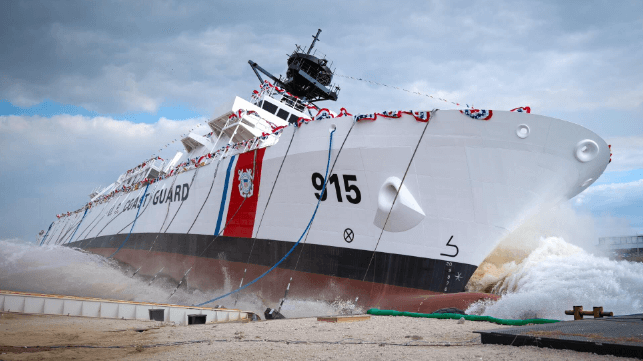 On Friday, Eastern Shipbuilding christened and launched the long-awaited first hull in the Offshore Patrol Cutter (OPC) series, one of the U.S. Coast Guard's top acquisition priorities. After overcoming many challenges, including facility damage from a Category 5 hurricane, the yard has reached a major milestone toward delivering the first-in-class USCGC Argus.
U.S. Coast Guard Commandant Linda Fagan delivered the keynote address, and the ship's sponsor was Capt. Beverly Kelley (USCG, ret'd), the first woman to command a U.S. military vessel.
The cutter is named for the Revenue Cutter Argus, which was one of the first 10 ships assigned to the U.S. Revenue Cutter Service, a predecessor of the Coast Guard. The first Argus entered service for the United States in 1791, two years after the signing of the U.S. Constitution.
Argus and her sister ships are the replacement for the service's aging WMEC cutters, which carry out the lion's share of the drug interdiction mission in the Caribbean and Eastern Pacific. The oldest of the medium-endurance cutters are approaching 60 years in service, twice the usual lifespan of a seagoing ship. When delivered, the OPCs will allow them to finally retire.
The OPC contract was awarded in 2016 under then-Commandant Adm. Paul Zukunft, and it was the largest single line item in Coast Guard history, with a maximum possible value of $10.5 billion for 25 ships. The first vessel, USCGC Argus, was due to deliver in August 2021.
However, the impact of Hurricane Michael in 2018 set back production and affected Eastern's workforce and facilities, prompting the Department of Homeland Security to adjust the contract terms. Eastern kept the orders for the first four hulls in the series on an extended delivery timeline, and the remaining work was recompeted. Austal won the recompeted contract for the fifth hull, along with options for 10 more. The revised delivery date for Argus is in September 2024, according to the Coast Guard.
Today, the OPC program at Eastern employs about 1,500 people and draws on the services of 200 suppliers from 25 states across the nation, according to the shipyard.
"We are proud to christen this first of class national security asset in front of her crew today," said Joey D'Isernia, CEO of Eastern Shipbuilding Group, Inc. "With each milestone we reach, our employees are constructing the most advanced and capable ship the U.S. Coast Guard has ever seen."