Duterte Says He Can't Defend Scarborough Shoal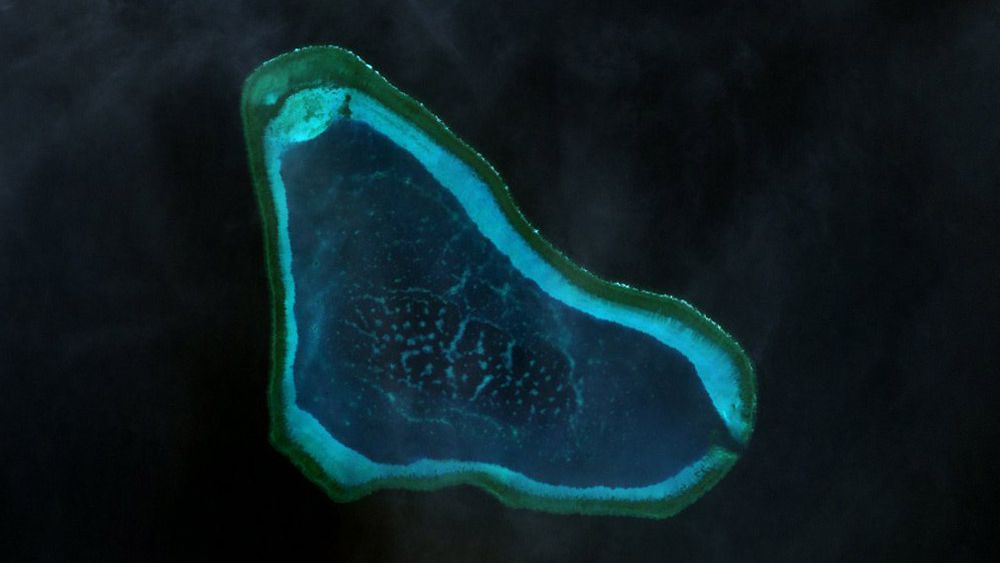 On Sunday, Philippine president Rodrigo Duterte said that he was effectively powerless to stop China's island-building campaign in the South China Sea.
"We cannot stop China from doing his thing, the Americans were not able to stop it," Duterte said at a brief news conference. "Sir, what will I do? Declare a war against China? I can, but we'll all lose our military and policemen tomorrow, and we are a destroyed nation."
Duterte was responding to recent reports suggesting that another round of Chinese land reclamation is about to begin in the Spratly Islands. On Friday, Sansha Communist Party Secretary Xiao Jie, the provincial administrator of China's land claims in the South China Sea, told state media that China would soon begin building an "environmental monitoring station" on disputed Scarborough Shoal.
As early as February, Philippine defense secretary Delfin Lorenzana predicted that it was likely that China would soon create a manmade land feature on Scarborough. "If we allow them, they will build," he told AFP. "That's very, very disturbing. [More] disturbing than Fiery Cross because this is so close . . . to us that is unacceptable." Scarborough is just 140 nm away from the former U.S. naval base at Subic Bay, and analysts like Thomas Shugart, a senior military fellow at CNAS, warn that a Chinese base there could threaten the entire island of Luzon. To put the military potential of a base at Scarborough into perspective, Shugart posted an image of the reef alongside an image of the island of Manhattan, showing that Scarborough is more than twice as large.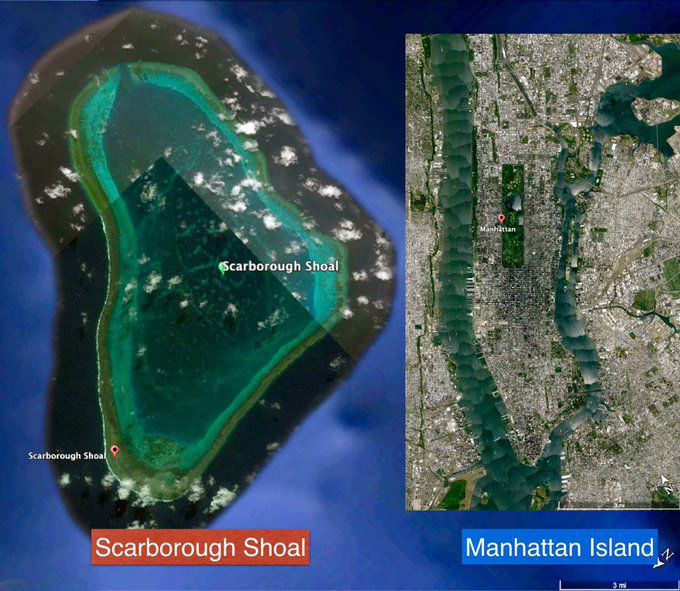 Scarborough (>58 square miles) vs. Manhattan (22 square miles), courtesy twitter / Thomas Shugart
The possibility of an island-building project at Scarborough has multiple precedents throughout the Spratly Islands and Paracel Islands, where China has moved swiftly to build up military-grade infrastructure.
Philippine jurist pushes Duterte to defend island claims
On Monday, Philippine Supreme Court Associate Justice Antonio Carpio called on Duterte's government to defend Scarborough Shoal.
"A radar station on Scarborough Shoal will immediately complete China's radar coverage of the entire South China Sea. China can then impose an ADIZ or air defense identification zone in the South China Sea," he warned. "That means China will grab 80 percent of Philippine exclusive economic zone and 100 percent of Philippine extended continental shelf in the West Philippine Sea."
He asked Duterte to avoid comments that appear to cede control of the nation's island territories to China. "This will preserve for future generations of Filipinos their natural patrimony in the West Philippine Sea," he wrote. Carpio also urged the president to accept U.S. offers for joint naval patrols in Philippine waters, and to seek clarification from Washington to ensure that Scarborough is covered by the Philippines-U.S. Mutual Defense Treaty.
Duterte's position on Scarborough has varied over the past four months – he declared it a protected marine preserve in November, then offered China access to its mineral resources under a joint development plan – but in general, he has taken a conciliatory approach to the question of China's ambitions.