Dutch Company Faces Criminal Investigation for Transporting Trucks to Libya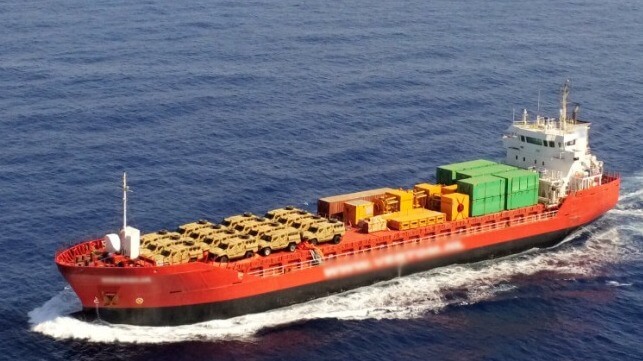 A Dutch shipping company is reportedly facing a criminal investigation over possible violations of the arms embargo against Libya. The Dutch news outlet RTL Nieuws reports today that the Public Prosecution Service (OM) in the Netherlands has commenced a criminal investigation into the Shipping Company Groningen (SCG) after an incident in October 2022.
According to the report, the investigation is the result of a UN inquiry that found there were likely violations. RTL reports that the shipping company did not respond to the UN's requests for information or the newspaper's reporter. The shipping company previously issued a statement saying it was in compliance and had the appropriate paperwork.
The Meedijk, a 4,900 dwt "singledecker" cargo ship, operated by SCG was inspected on October 11, 2022, off the coast of Libya by Operation EUNAVFOR MED IRINI. Operation IRINI was launched on March 31, 2020, and runs into 2025, with a mandate to enforce the UN arms embargo on Libya as part of the Foreign Affairs Council of the European Union's efforts to enforce a peaceful solution to the Libyan conflict.
Trucks loaded in the cargo hold of the vessel (Operation IRINI)
Images of the vessel clearly show it loaded with armored all-terrain vehicles deck loaded along with other cargo. Operation IRINI contacted the vessel which consented to the inspection and the boarding team went aboard to verify the nature of the vehicles. They reported finding 41 trucks on deck and in the cargo hold which they believed were modified for military purposes and a violation of the embargo. They diverted the Meedijk to Marseille, France, where the vehicles were offloaded and stored as part of a seizure order. The vessel was not detained.
SCG issued a statement at the time saying that it had acted fully in line with all applicable regulations and had the necessary permits and documentation. The vehicles' manufacturer, who was in the United Arab Emirates and arranged for the shipment to Benghazi, Libya, contends the vehicles were for patrols to maintain order and combat illegal immigration, meaning they are not part of the sanctions.
UN monitors disagree over the purpose of the vehicles. Further, they said the boarding team reported the ship lacked an "end user declaration" which was required for the shipment. RTL says the UN monitors contacted SCG for further details and clarification and received no response.
The Public Prosecution Service declined a request for a comment on the investigation. At the same time, a Dutch politician is proposing that the vehicles be donated to Ukraine. Operation IRINI reported last October that it was the second seizure it had made in three months of banned material being sent to Libya.