DSME Posts First Annual Profit Since 2011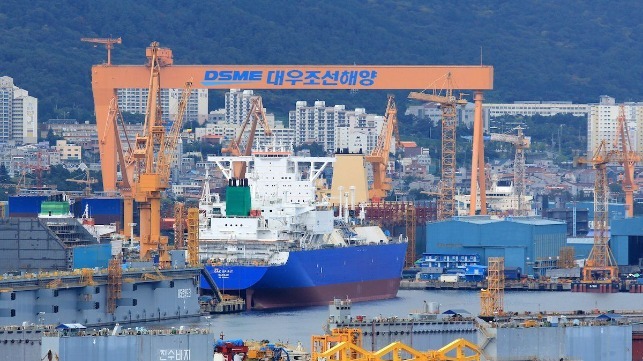 After six years of losses, financial rescue packages and scandals, South Korean shipbuilder Daewoo Shipbuilding & Marine Engineering has returned to profitability. It posted a net profit of nearly $630 million in 2017, up from a net loss of $2.6 billion the year before. The news marks its first year in the black since 2011.
The turnaround occurred despite falling sales numbers, which were down by 13 percent relative to the year before. Its newfound profitability is driven in part by a massive restructuring program: thanks to a $6 billion bailout package led by KDB and KEXIM, the yard improved its debt ratio from 2,100 percent last year to 280 percent.
Layoffs have also contributed to improvements in profitability. In 2016, CEO Jung Sung-Leep laid out a plan to reduce payroll by 12,000 positions over three years. He set a final headcount target of 30,000 employees, similar to the size of the firm in 2009-10. Jung said that this would be "the optimum number for the company to operate more efficiently and cost-effectively."
The downsizing has had an effect on the local economy. Geoje, the city that is home to DSME and competitor Samsung Heavy Industries, logged the highest unemployment rate in South Korea late last year. At 6.6 percent, the rate was more than twice as high as in late 2016.
In addition to debt relief and downsizing, DSME said that it has improved the efficiency of its offshore plant construction methods. It delivered five topsides units on schedule last year, which helped it to avoid paying penalties for delays.
The yard hopes to win $9.4 billion in sales this year, and it is pinning part of its hopes on rising demand for high-value-added LNG carriers. Many sectors of shipping are showing signs of improvement, and DSME has announced multiple large orders for complex vessels in recent months. Support from a new state-backed shipping financier may also boost its sales numbers going forward.