DonJon-SMIT Refloats Grounded Cargo Ship Bonnie G
Salvors have successfully refloated the inter-island cargo ship Bonnie G from a coral shoal just off St. Thomas in the U.S. Virgin Islands.
Bonnie G went aground on October 4 during Tropical Storm Philippe, prompting the launch of a challenging rescue operation to save the crew. The 42-year-old former offshore supply vessel operates as a ro/ro, carrying cargo between San Juan, the British Virgin Islands, and the U.S. Virgin Islands. She was on a regular run from St. Croix in the early hours of October 4, and her crew contacted the Coast Guard to report that they were aground and taking on water in the engine room. Despite rough surface conditions, a Coast Guard boat crew rescued all 12 people aboard.
Conditions on scene during the Bonnie G rescue, October 4 (USCG)
As soon as it was practicable, responders boomed off the Bonnie G as a precaution against a spill, then began pumping off the vessel's tanks, which contained an estimated 13,000 gallons of fuel. Divers also removed thousands of pounds of debris from the coral reef around the ship.
Over the weekend, salvor DonJon-SMIT made preparations to pump out Bonnie G's tanks and bring her off the bottom. Two tugs, Sentry and Limetree Bay, deployed to the scene to help pull the stricken vessel off the shoal. When ready, the salvors pumped out five compartments with compressed air while pumping water out of the engine room and steering compartments. The tugs pulled the Bonnie G off the reef and towed it safely to a nearby pier in St. Thomas for inspection.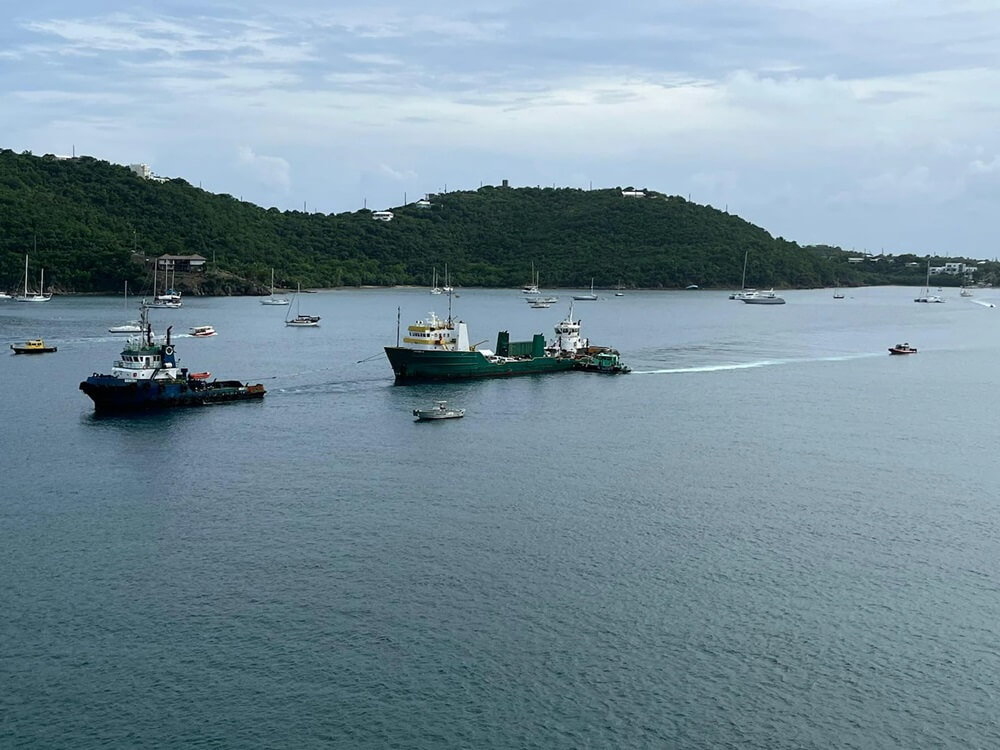 Courtesy USCG
"We commend all of the Coast Guard, federal, and local response agency crews as well as the National Response Corp., Playland Marine LLC and DonJon-SMIT, Inc. for their efforts in achieving a successful response," said Lt. Cmdr. Jennifer Flowers. "This was a very complex incident, as the Bonnie G response endured twenty-six days with the vessel aground and two passing storms in the peak of hurricane season."
The shipowner and the salvors will continue the work to remove the vessel's remaining oil, offload the cargo and repair the vessel.
Vessel owners and salvors will now coordinate further operations to remove the damaged cargo, remaining oil and conduct further salvage or repair operations for the Bonnie G.