Dock Damage Creates Uncertainty for Roatan Cruise Calls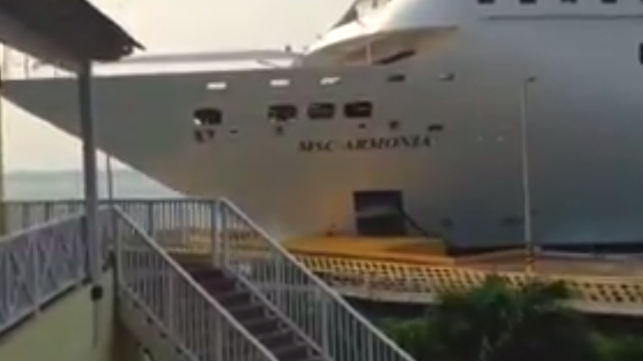 Damage to the passenger terminal wharf at Roatan, Honduras is creating uncertainty for the port's cruise ship schedule.
The MSC Armonia struck Roatan's cruise ship dock on April 10, causing minor damage to the vessel's hull and an unknown amount of damage to the pier. After minor repairs, the Armonia departed Roatan and continued on her voyage.
In a press release April 12, the Port of Roatan said that the dock reconstruction work has not yet begun, and it is waiting for experts to examine the pier. As an early estimate, the port said that damages could exceed $10 million, and once work begins, the repairs are expected to take three months. Since all the necessary construction equipment will be on site for the repairs, the port hopes to construct a planned second berth at the same time, resulting in savings on transportation and logistics.
The MSC Armonia struck the eastern side of the pier, and enough of rest of the wharf remains intact for smaller vessels to arrive. However, large cruise ships may not be able to dock, the port said, and it indicated that it is still verifying the impact on cruise ship schedules.
At least one large vessel has docked at the terminal since the accident. In the early hours of April 13, the cruise ship Norwegian Pearl reported a medical emergency aboard the ship and requested permission to berth at Roatan. The port mobilized its team and facilitated the Pearl's brief port call.
Separately, the Norwegian Jade called at Roatan on Monday. AIS data shows that the Norwegian Getaway also called Roatan on Thursday, but it does not confirm whether she berthed or chose to anchor.
The damage could still affect ships that are larger than the Jade and Getaway. According to the port's press release, its first-ever call for the 6,300-passenger Allure of the Seas has been canceled, and she would not be visiting Roatan this season. However, operator NCL told Cruise Critic that it will make a decision on the Allure's itinerary at a later date. Tendering remains an option for vessels that are too large to berth.