Despite NATO Tensions, Norway and Russia Sign Seismic Treaty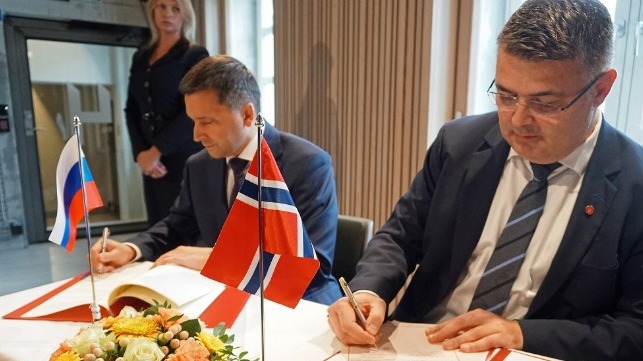 Last week, while Norway and its NATO allies launched a massive exercise aimed at defending against a Russian attack, Oslo and Moscow signed an accord to facilitate seismic exploration for oil and gas along their Arctic maritime border.
NATO is currently conducting its largest exercise in a decade, Trident Juncture 2018, with 50,000 personnel and a full range of warfighting assets converging on Norway and Iceland for a two week "collective defense" exercise. The participants including the USS Harry S. Truman, the first American carrier to visit the northern reaches of the Norwegian Sea since the Cold War.
NATO has described the exercise in Norway as a fictitious, defensive training scenario that is not targeted at any particular nation. However, NATO was founded to counter Russian capabilities, and Russia is its only near-peer competitor. In an op-ed, former NATO Allied Commander Adm. James Stavridis made clear that "while the adversary in the exercise is 'fictional,' it is clearly modeled on Russia."
Russia's foreign ministry voiced strong objections to the drill, as it has in past exercises. "It is obvious that this fighting capabilities demonstration has a distinct anti-Russian character," the ministry wrote. "In fact, NATO military experts' latest know-hows [sic] on Russia's forceful containment will be practiced within the Trident Juncture 2018, in a climatic environment that is as much as possible similar to ours."
However, the sharp rhetoric and the nearby drills did not prevent Russia and Norway from concluding a key treaty on seismic explorations. On Thursday, as Trident Juncture kicked off, Russian Minister of Natural Resources Dmitry Kobylkin arrived in Oslo to sign an agreement that will allow Russian and Norwegian seismic vessels to cross their Barents Sea maritime border and collect data on either side. It covers survey track lines for up to five kilometers on either side of the border, and discoveries will be subject to unitization. "This means that both counties will be able to improve their mapping of the resource potential along the delimitation line," said Norwegian Minister of Petroleum and Energy Kjell-Børge Freiberg.
The agreement will be of considerable value to Norwegian oil and gas companies. Norway has sold several lease blocks directly along the border, including block PL858, which is held by SDOE, Statoil (Equinor), Lukoil and Det Norske.