Despite Hurricane Michael, Eastern Shipbuilding Keeps Working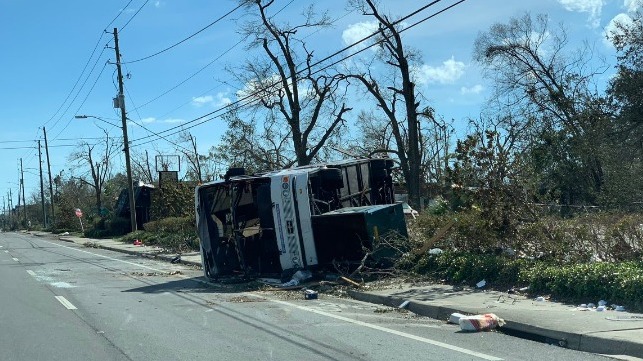 In a display of resilience, Eastern Shipbuilding of Panama City, Florida is already getting back to work after Hurricane Michael, despite the storm's devastating impact on the Florida Panhandle. However, yard manager Justin Smith says that only 100 out of 800 workers have returned to their duties so far, and many of them have lost their homes.
"We are a family at Eastern Shipbuilding," Smith said in a statement. Eastern says that it is helping to feed and take care of its employees' families in order to help workers return to the yard.
Eastern has a major order to fill: it recently began building the U.S. Coast Guard's first new Offshore Patrol Cutter, the service's highest-priority acquisition program and the largest single contract in its history. The USCG has given the green light to construct the lead OPC vessel and to buy the long-lead-time materials for the second; if it exercises all contract options, Eastern could build up to 25 of the vessels at a cost of $390 million per ship.
Unfortunately, one of Eastern's commercial shipbuilding orders suffered damage due to the storm. The newly-launched trawler North Star partially capsized in St. Andrews Bay during the hurricane, and will have to be salvaged and repaired before making its way to the fishing grounds of Alaska.
Relief effort under way
In addition to its assistance to its own employees, Eastern Shipbuilding is also collecting donations for the residents of Panama City, which suffered heavy damage from the Category 4 storm. Aid packages may be delivered to its Nelson Street Shipyard facility at 2200 Nelson Street, Panama City, Florida 32401.
Local resident Arthur Phillips told CNN that Panama City looks "like a war zone," but he said that the relief effort has kicked into gear. "Everybody's come together to help. There's a lot of Red Cross," he said. FEMA has also set up seven aid distribution sites in and around Panama City.
Schools in eight Florida counties, including Panama City's Bay County, remain shuttered. Bay County's school district is making plans to reopen some campuses, dependent upon the restoration of power and water supplies. "We will reopen, we will get our kids back in school and we will progress everyone as they are supposed to be progressed," said superintendent Bill Husfelt in a social media update.
The search for survivors and missing persons continues in Panama City and elsewhere in the Panhandle, though rescuers report that debris and blocked roads remain a challenge. The official death toll from Hurricane Michael rose on Monday to 19 people across four states, with the heaviest concentration in Florida. An unknown number remain missing.