Denmark Supports Efforts to Develop Floating Offshore Wind Turbines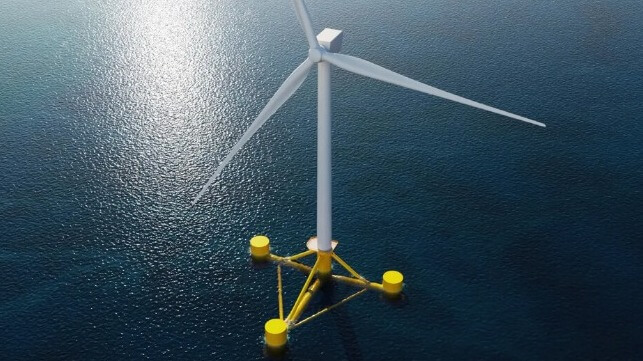 Denmark looks to take a leadership role in the development of floating offshore wind turbines. The government is supporting projects and forming new partnerships as it believes the move from fixed bottom to floating wind will be critical for the next phase of the development of renewable energy.
Industry experts point out that there remain significant challenges to be overcome to make floating wind turbines economically viable. A new consortium of Danish organizations working together to advance the technology highlights that floating foundations must be able to withstand extreme waves and storms, and their costs must be brought down.
Denmark has been a leader in offshore wind and looks to maintain its role in the next phase of development. The companies highlighted that 92 percent of Europe's offshore wind turbines have been produced with their origins in the Danish wind industry, which provided an early model for the sector. Now, they believe that floating wind turbines will develop by 2030 to reach about half of the current installed bottom fixed capacity.
Denmark's Innovation Fund is committing 15,400,000 Danish Krone ($2.2 million) to the FloatLab project which will be run by a consortium of Danish companies and academic researchers. In addition to support for that project, Denmark and Japan this week signed a letter of intent to form a cooperation focusing on the advancement of floating wind turbine technology.
FloatLab will establish a laboratory located at DHI, which has been researching water for 60 years, along with partners that include DTU, Siemens-Gamesa Renewable Energy, Stiesdal Offshore, Stromning, and Ørsted, all of which have experience with floating turbines and offshore wind. At the lab, they will establish a new wind generator and a new model scale wind turbine built to be mounted on models of new floating foundations.
"Floating offshore wind turbines are still a relatively new technology, and production and processes are still not optimized," says Pietro Danilo Tomaselli, Senior Hydraulic Engineer and head of the FloatLab activities at DHI. "With FloatLab, we will increase the industry knowledge and can eventually reduce risks and costs for offshore wind entrepreneurs and thereby accelerate the green transition."
The project's goal is to contribute to uncovering the new physics, reducing risks, and validating the engineering models used for turbine and floating foundation design. The project is scheduled to run for four years until 2027 with a total budget of nearly $3.2 million. Among the aspects to be tested during the project are 3D waves, loads from breaking waves, turbulence, and failure of mooring lines.
In addition to providing funding for the project, the government of Denmark this week entered into an agreement with Japan to collaborate on researching and developing floating offshore wind power technology. They committed to establishing the framework and setting up the International Innovation Center for Floating Offshore Wind Energy. Collaborating with academia, regulatory authorities, and the industry and supply chain for floating offshore wind, they aim to support the industry to become an economically viable solution. They look to create standards that can be used globally for the industry.
The two countries signed the agreement during a visit by Denmark's Prime Minister Mette Frederiksen to Japan and meetings with Japan's Prime Minister Fumio Kishida. In addition to the agreement to work together on offshore wind technology, the two countries also announced cooperation to develop hydrogen, ammonia, and derivates. They will cooperate on developing a sustainable and affordable hydrogen, ammonia, and derivates supply chain, including production of the future fuels.