Damen Takes Port-Based BWTS System on European Tour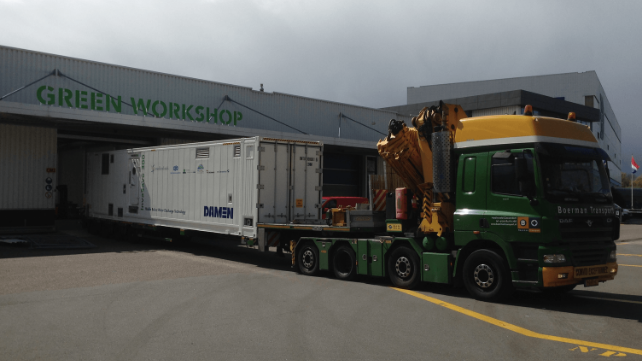 Newbuilds are already required to comply with the IMO's Ballast Water Convention, and after this September, all existing ships will have to meet its standards by the time of their next IOPP renewal. To cut down the cost of compliance for some vessel types, Damen Green Solutions has designed a containerized, port-based, non-retrofit solution.
Damen's InvaSave 300 is an external ballast water treatment unit that uses filtration and UV light to neutralize invasive organisms to IMO-D2 standards. It is IMO certified, and it can provide compliant water treatment for both deballasting and ballasting. The system comes in one standard forty-foot container, which makes it easy to move; Damen says that it is ideal for placing on a barge, workboat or trailer for movement around a port, harbor or shipyard.
For the right application, Invasave is a cost-saver, according to Damen. "Consider FPSOs – they are at sea for years at a time and need ballast water exchange only very infrequently. Nonetheless, they are required to comply with the regulations," says Damen Green sales manager Philip Rabe. "InvaSave provides a solution without the need for costly conversion – and without taking up valuable onboard storage space."
To demonstrate the system's effectiveness, Damen will be taking its InvaSave 300 mobile ballast water treatment system on a tour of Europe. "We recognize that InvaSave is an innovative concept, and that . . . operators may like to see its results first-hand before committing to its use. Therefore, we have taken it upon ourselves to prove the effectiveness of the product," says Rabe.
The first public demonstrations of the InvaSave European tour will take place at Lisbon's cruise terminal on May 16-17 as part of the European Maritime Days event.
Emergency treatment
American firms Glosten and Global Diving & Salvage have developed a mobile ballast water treatment that is similar in concept, but intended primarily to serve as a backup / emergency option in the event that the ship cannot treat its own ballast. The chlorination-based mobile system can be transported to treat vessels that have unmanaged or untreated ballast water in port, or in groundings or other emergency situations.
Last year, the system's developers conducted two tests - one on a 350-foot merchant vessel in Coos Bay, Oregon and another in Lake Erie on the Great Lakes freighter Tim S. Dool. The tests on the Dool showed that the mobile system could be set up within eight hours of arrival. Tanks containing 2,400 cubic meters of water were treated and neutralized within another 20 hours - all while under way.