CTF-150 Carries Out Two Mideast Drug Busts in One Day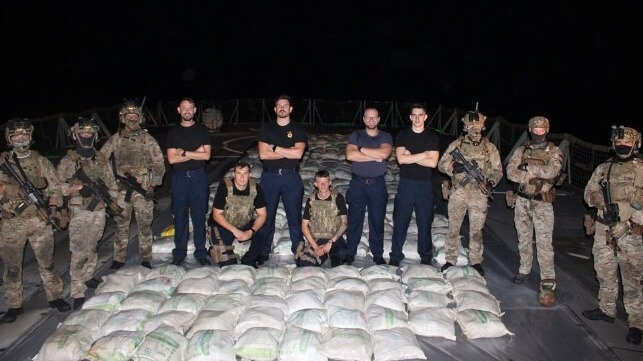 CTF-150, a division of the multinational naval force Combined Maritime Forces, can celebrate some success in its campaign against smuggling after two warships operating under its command made two drug seizures on the same day in the Gulf of Oman and Arabian Sea.
In the first case, U.S. Coast Guard fast response cutter USCGC Glen Harris seized a cache of heroin in the Gulf of Oman worth $80 million, the vessel's second bust within a week. In the second case, Royal Navy frigate HMS Lancaster apprehended 3.2 tonnes of hashish worth $3.1 million in the Arabia Sea. Lancaster had just resumed her regular security patrol after helping undertake evacuations from Sudan.
In the Glen Harris' case, a boarding team discovered 1,964 kilograms of heroin on a vessel transiting international waters after departing Chah Bahar, Iran. This came just two days after the cutter apprehended $30 million worth of methamphetamine and heroin from another fishing vessel that departed the same port. The previous seizure included 580 kilograms of methamphetamine and 35 kilograms of heroin.
"I'm very proud of my crew and all we've been able to accomplish as a team this week. We're out here to work with regional partners and disrupt any destabilizing maritime activity at sea. We will continue getting after it," said Lt. Nick Jabs, Glen Harris's commanding officer.
Glen Harris arrived in the Middle East last year as part of a contingent of USCG cutters that are forward-deployed to the region under Patrol Forces Southwest Asia.
As Glen Harris was carrying out the seizure in the Gulf of Oman, Lancaster was in the Arabia Sea, where she had resumed regular patrols after assisting the UK government's operation to evacuate civilians from warring Sudan. The frigate encountered a suspicious boat, and her boarding team discovered a large quantity of packages on the deck.
The commandos were joined by a team of sailors who carried out an in-depth search in which nearly 200 packages were discovered, each containing around 11 kilograms of hashish. The haul totaled 3.2 tonnes.
Earlier this year, Lancaster intercepted another suspicious craft and recovered a substantial illegal weapons haul, including anti-tank missiles. This was the first drug bust by the ship since she arrived in the Middle East last autumn, replacing her sister ship, HMS Montrose. During her tour last year, Montrose scored five successes totaling nearly $63 million in value.
"I am exceptionally proud of my team for their efforts which resulted in over three tonnes of narcotics being seized. This success is shared with our international partners in CTF 150 who provided essential support to the operation," said Commander Tom Johnson, Lancaster's Commanding Officer.
The Royal Navy is currently leading CTF 150 and Lancaster's seizure is the latest success for the multinational security mission, which is supported by over three dozen navies and polices more than two million square miles of ocean. Since the beginning of the year, naval forces supporting CTF 150 have seized illegal drugs worth a combined estimated street value of more than $250 million.