CSSC Unveils New Name and Features for First Chinese-Built Cruise Ship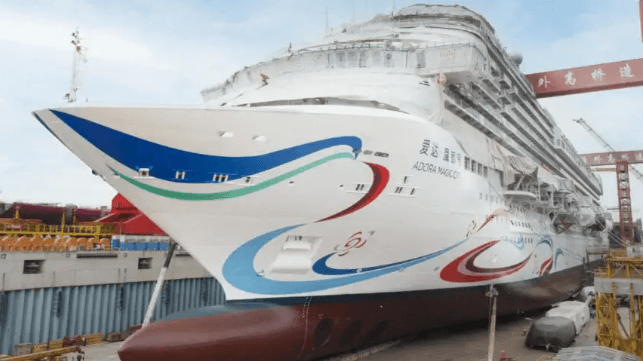 Carnival Corporation's Chinese joint venture, CSSC Carnival Cruise Shipping, has unveiled the name of its soon-to-debut Chinese-built cruise ship - "Adora Magic City." The vessel will be the first in the world with 5G mobile broadband connectivity for passengers, according to its sponsors.
"By seizing a first-mover advantage in the cruise industry's 5G market, we hope to set a new standard for digital communication in the marine travel sector," Chen Ranfeng, managing director of CSSC Carnival Cruise Shipping, told CGTN.
Adora Magic City is being built by a consortium made up of China State Shipbuilding Corporation; Shanghai Waigaoqiao; Carnival; and Italian cruise shipbuilder Fincantieri, which provided the design and technology under license, along with supply chain services and certain key equipment. Fincantieri's marine interiors division also fitted out all of the cabins.
Construction began in November 2020, but was delayed by the pandemic lockdowns; when completed, it will be the first full-size cruise ship ever built in China. It will have room for more than 4,200 passengers, and its design is aimed at a mix of Chinese and overseas passengers. It will have an emphasis on retail shopping, with the largest selection of duty-free shops of any cruise ship in the region. An as-yet-unnamed sister ship is under construction in Shanghai and will be ready to begin operations next year.
The Adora Magic City will be operated by Adora, Carnival's China-market brand, and will sail out of Shanghai beginnning this year. With lockdowns eased, international cruising out of the prosperous port city is expected to resume with a phased pilot program beginning in June. The first Chinese-owned cruise ships to restart international service will be the Blue Dream Star, operated by Blue Dream Cruises, and the China Merchants Yidun, operated in a JV between Viking and China Merchants.