Cruise Pianist Writes Cruising Cat Book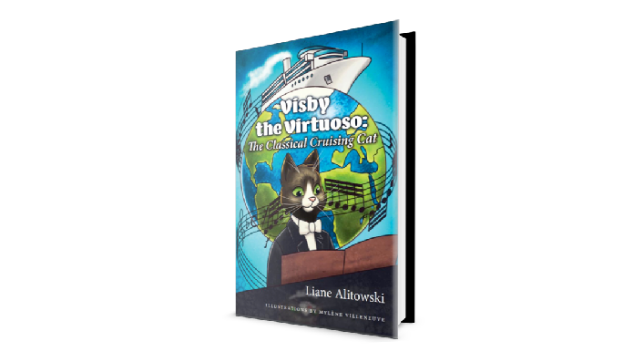 Author and pianist, Liane Alitowski, D.M.A.(Stony Brook University), has written an all-ages book: Visby the Virtuoso: The Classical Cruising Cat.
This educational book brings to life the world of travel, music, science and friendship through the experiences of an unusually talented cat. Visby, a gifted pianist, performs piano recitals while traveling to Europe on a cruise ship. At each port, Visby, curious to learn, gets himself into unexpected adventures.
On land, he might be found running with Spanish cats in Barcelona, or conversing with French cats as they climb Paris' Eiffel Tower, or joining a tour at Pompeii to learn about the volcano, or wandering through the Hermitage of St. Petersburg, or even falling in love with a fluffy white virtuoso violinist!
Back on the ship Visby performs piano pieces from every country on the cruise's itinerary. He shows his audiences how each piece of music reveals something about its culture. His repertoire includes
American, Spanish, French, Italian, German, Polish, Russian and Estonian composers. Visby's enthusiasm for exploring and learning is contagious, as he shares a world of possibilities with readers of all ages.
About the Author
Alitowski is a native New Yorker who has been widely acclaimed for her solo and chamber performances in the U.S., Canada, France, Sweden, Argentina, Israel, Australia and Japan. As the first resident pianist for Miami's New World Symphony under the direction of Michael Tilson Thomas, Alitowski was featured with artists such as Joshua Bell, the Miami String Quartet, the late Audrey Hepburn and New York's Lincoln Center Chamber Music Society.
Outside of her appearances on land, Alitowski has performed on board cruise lines all around the world. Her seafaring concert audiences have been on Cunard, Holland America, Princess, Renaissance, Costa and World Explorer cruise ships.
Alitowski currently lives in Montréal, Québec and teaches at McGill University.
Excerpt from the Book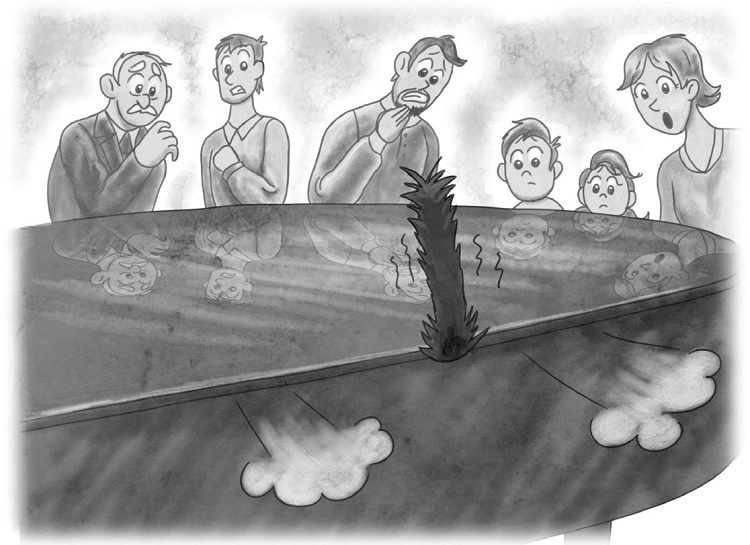 He smiled, and said, "Sure. I was thinking I'd play a fantastic piece by the Spanish composer, Isaac Albeniz, seeing as how we'll be passing near Spain day after tomorrow. But just a second, I need to check something here in the piano. There's a buzzing sound coming from the instrument. Maybe a piece of paper or a pencil fell in. Bear with me for a moment." Visby then climbed onto the piano bench to look inside. "Aha! Like I thought. A pencil!" he declared.
Just as he leaned in to pick it up, he noticed a few more pencils and some paper clips under the strings that were likely causing the buzzing sounds. Visby figured he could maneuver his small body across the inside of the piano and put a paw between the metal strings to retrieve the small objects.
Once inside the piano, Visby's body stiffened. He felt something was wrong! Vibrations from Visby's tinkering had caused the thin stick that had been supporting the piano lid to start slipping from its hole. In a split second, the entire piano lid came crashing down. It came down so fast that it caused the entire piano to shake and resonate making a horrific sound.
For a moment everyone in the hall gasped in disbelief. People screamed, and a few ran towards the piano. Two large men carefully lifted the lid. They were stunned when they found Visby laying perfectly still holding a couple of pencils. The lid had missed him by mere inches. The only thing that Visby suffered from was temporary hearing loss.
Someone asked him, "Visby, are you ok?"
He answered, "What? I can't hear you."
This time the fellow shouted, "I'm asking you if you're ok."
Visby shouted his reply, "You have to speak up!"