Crowley Plans Foray Into Battery-Electric Trucking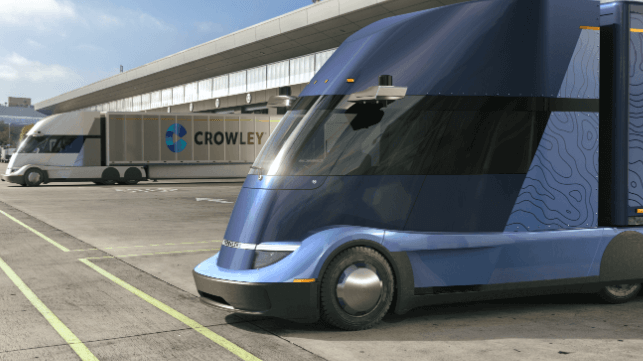 Florida-based shipping company Crowley is known best for its maritime operations, including its foray into green shipping with the development of America's first electric tug. Its shoreside logistics arm is also making waves in clean technology with a partnership to test out battery-electric trucking.
Crowley has agreed to work with the California startup Terraline to trial a Class 8 electric truck, beginning in 2024. The model is the first of its kind, and it will be deployed to serve Crowley's operations in Florida.
"At Terraline, we have enormous goals around accelerating the adoption of electrification across freight fleets. Securing this agreement with such a forward-looking company like Crowley validates our team's hard work and gets the industry closer to meeting state and federal emissions mandates," said Graham Doorley, Terraline's CEO, in a statement Tuesday.
The battery-electric Tangra LH1 truck will have more than 500 miles of range between chargings, putting it in the same class as the new Tesla Semi. It is Terraline's first human-operated design: a previous iteration, SD1, was to be fully autonomous. The new LH1 keeps the aerodynamic form factor of its predecessor but adds driver-ready features. In explaining the change earlier this year, Doorley said that the transport industry must accelerate electrification today; autonomous technology and regulation will follow when ready.
Electrification is the key to meeting expected regulatory standards for clean trucking in the decades to come. The Environmental Protection Agency has proposed new emissions rules that would make zero-emissions drivetrains standard for a quarter of the new heavy truck sales market by the mid-2030s. In California, where state regulators can set their own emissions rules, truck and engine manufacturers have agreed to achieve 100 percent zero-emissions vehicle sales by 2036. In the private sector, many top American logistics companies and retailers have set even more ambitious targets for decarbonizing their trucking operations.
Terraline would be well-placed for this future market, and it wants to enter it as a leased-vehicle service provider. Keeping its maintenance in-house, it hopes to get about 10 years of service life and three million miles out of each truck, many times more than the typical maximum mileage of a diesel-powered semi tractor.