Costa Plans Pilot Using Batteries for Large Cruise Ship Zero Emissions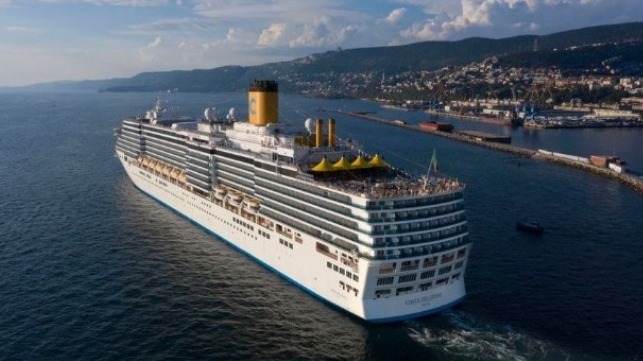 Costa Cruises working with Italian energy company Enel is exploring electrification of its large cruise ships as part of a broader effort to promote sustainability in the maritime industry. The cruise line which is part of Carnival Corporation and an early pioneer in new systems including the use of LNG-fueled cruise ships says it will collaborate with Enel to explore projects to reduce emissions on its cruise ship when they are operating near shore and are in port as well as advocating for the expansion of Italy's use of cold ironing at more ports.
While efforts at electrification have progressed for example with the first product tankers, for example, able to maneuver on battery power in ports, this project represents the first attempt for large ships with the extensive power requirements of the hotel side of a cruise ship as well as for maneuvering. Smaller expedition cruise ships and passenger ships operating on the coast of Norway have added batteries but have limited timespans of operation. Norway's Havila Kystruten claimed a record when its 15,800 gross ton Havila Castor cruised in Geirangerfjord in June 2022 for three hours on battery power.
Working with Enel they plan to carry out a retrofit for a pilot case to eliminate emissions on one of the cruise ships while entering and leaving port and on dock. The plan is to install a battery power supply system. It would likely be combined with shore power and a recharging system for the batteries. Costa highlights that this would eliminate emissions from the cruise ship for half a day between the time spent on dock and maneuvering.
General Manager of Costa Crociere Mario Zanetti points out that the project is part of their ambitions to introduce a new generation of cruise ships operating with net zero emissions by 2050. They highlight that the cruise industry is among the most technologically advanced and one of the forerunners of low environmental impact solutions. Carnival Corporation's Costa Group was the first to introduce a large LNG-fueled cruise ship in 2018 for AIDA and Costa Cruises introduced its first LGN ship in 2019.
There was no indication which of the cruise ships might be used for the pilot project. Among Costa's current fleet, one cruise ship is 92,720 gross tons while the others are all above 100,000 gross tons with the two newest ships being 185,000 gross tons dual-fueled and able to operate full-time on LNG. The ships accommodate between 2,800 and 6,500 passengers with crews ranging in size from just over 1,000 to 1,600 people. The battery system will need to be able to accommodate both the power for navigation and the hotel power load.
"We are particularly proud of this agreement between two Italian companies committed to reducing emissions in their respective sectors at the European and global level and with a focus on innovation and sustainability," said Nicola Lanzetta, Enel's Director for Italy. "By combining our respective skills, we intend to propose a virtuous model for maritime transport, with benefits not only for cruise passengers but also for the entire port system, which would thus see ship emissions and noise pollution reduced or eliminated."
The companies plan to also advocate for efforts in Italy aimed at simplifying and incentivizing energy efficiency including electrification and expanding the use of cold ironing in Italian ports. They highlight that today a third of Costa's fleet can operate on shore power but that many of the main Italian and Mediterranean ports have not yet implemented shore power despite the 2025 mandate from the European Union.
In 2022, the Western Ligurian Sea Port Authority confirmed contracts to introduce shore power at both Genoa and Savona, two key ports that Costa uses in western Italy. The contracts, which were awarded to Nidec ASI, have a value of €26 million ($27.4 million). Nidec has already electrified Genoa's container terminal. They reported that engineering work is underway with a plan to provide shore power at six berths in Genoa for cruise ships and ferries and for one cruise ship in Savona. They expect it will take two to three years to complete the installation of shore power at both ports. The Port of La Spezia this month also opened a tender for dock electrification.
While Costa and Enel will initially be focusing on Italy, they reported that the collaboration could be extended to other countries where they both operate. In particular, they will consider expanding their efforts in the future for electrification to Spain.