COSCO's Latest Port is 1,600 Miles Inland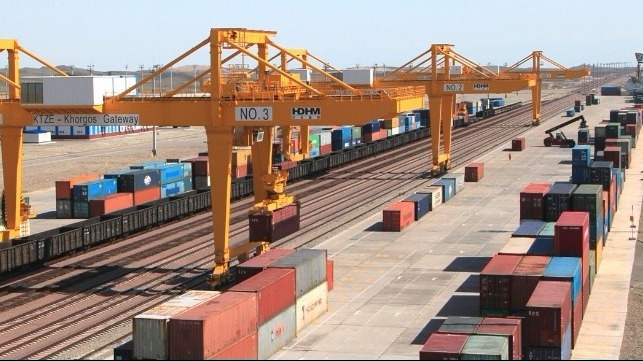 The Chinese and Russian railway systems run on two different track gauges: in China, the standard dimension of four feet 8.5 inches wide is used, but in Russia, the lines are built to five feet. The three-inch difference means that Chinese trains cannot run on Russian rails and vice versa. This - along with Chinese president Xi Jinping's vision for a continent-spanning "one belt, one road" transport network to Europe - is the reason that the world's number four ocean carrier is investing in a rail transfer station some 1,600 miles from the sea.
At Khorgos, a brand new "dry port" at China's remote border with Kazakhstan, Chinese containerized cargo is lifted off its rail cars and reloaded onto Russian-gauge trains. These carry the goods across Kazakhstan, Russia and Belarus to Siemianówka, Poland, where the process is repeated in reverse. The long rail journey and the multiple container moves are costly, but Chinese BCOs can save weeks of shipping time relative to ocean freight - an important factor for high-value cargoes like consumer electronics. The cost may dissuade many shippers: it is roughly ten times the price of ocean freight on similar routes, though some local governments in China offer steep rail subsidies to help offset the difference.
Last year, giant Chinese shipowner COSCO took a 49 percent stake in Khorgos. COSCO aims to boost the inland port's volumes to 500,000 containers per year by 2020, a fivefold increase over last year's numbers.
State-owned COSCO is among the world's biggest maritime companies - it has the world's biggest tanker fleet, the fourth-biggest container fleet, a string of seaports and China's largest merchant fleet overall - but Khorgos' inland location and purpose are not a deterrent. "Whether by ship or by train, it doesn't make any difference to us so long as things keep moving," COSCO representative Fan Guoming told the New York Times. Beijing's foreign policy priorities and desire for infrastructure projects may also factor into the investiment, in addition to profit motive.
Whatever its investment criteria, COSCO need not worry that the new rail service will impinge on its main business. 500,000 containers per year is a small quantity in an industry where port volumes are measured in the millions of TEU, and the overland rail service is more likely to take traffic away from even costlier air freight options.
With more investment and enough diplomatic negotiation, the need for Khorgos could eventually disappear. A Kazakh proposal dating back to 2004 would join China's standard-gauge rail lines with Europe's via a new route through Turkmenistan, Iran and Turkey. The route would bypass the old Soviet rail network and eliminate the need for changing cars, but it would cost billions, and despite early support from Kazakh leader Nursultan Nazarbayev it has not moved forward.
[Top image credit Khorgos Gateway LLP]