Conversion Work Begins for Greece's First FSRU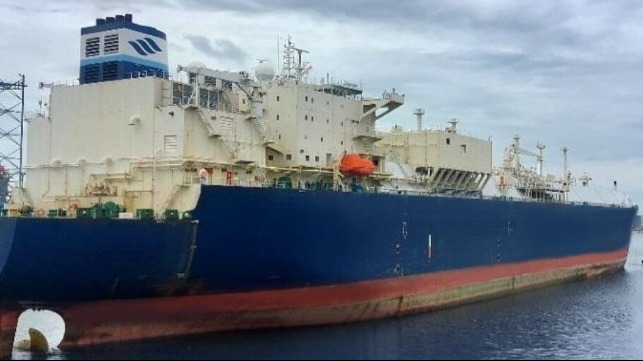 Work recently began for the conversion of LNG carriers to become Greece's first floating storage and regasification unit (FSRU) to be located in the eastern Mediterranean and supply Greece and the surrounding region. This project has been under development for six years and is expected to begin operation by the end of 2023.
The vessel that will be used in the LNG import operation is a 2010-built ship that originally operated as the STX Frontier and in 2013 became the Gaslog Chelsea. The vessel was officially renamed Alexandroupolis as of February first. She is 86,353 dwt with a capacity of 153,600 cbm. She is now registered in Greece.
The vessel was moved in early February to the Keppel shipyard in Singapore where the conversion work began. It will be equipped with a subsea and onshore gas transmission system giving it an LNG transfer rate of 10,000 cubic meters per hour. The conversion project is being overseen by DNV as the class society. According to Martin Cartwright, Business Director - Gas Carriers & FSRUs, DNV Maritime, this project is the record ninth FSRU conversion project that the classification society has conducted serving as another demonstration of the growing demand for FSRU projects.
"GasLog believed in the FSRU Alexandroupolis endeavor from the very beginning, and at a time when energy security in Europe was taken for granted," said Kostas Karathanos GasLog's COO. "We worked patiently and diligently to reach this stage and we are extremely proud to soon offer the first ever FSRU in Greek waters."
The project was first proposed in 2017 to be located approximately 10 miles from Alexandroupolis, in Eastern Greece in the Aegean Sea. Once in place, the project will be connected by an approximately 17-mile pipeline to the National Natural Gas Transmission System of Greece. The existing transmission system also has interconnects to Bulgaria and the Trans-Adriatic systems.
According to GasLog, which developed the project and is the owner of the FSRU, the Alexandroupolis is designed to add a new gateway for natural gas in the Greek and wider Balkan region, improving the region's energy mix and diversifying energy sources to enhance energy security. It is expected to have a regasification capacity of around 8 billion cubic meters annually.
Höegh Esperanza commenced regular operations in Germany on March 1 after final acceptance (Uniper)
The demand for FSRU arrangements had been developing before the war in Ukraine which further accelerated the demand. Neighboring Croatia launched its FSRU operation in 2021 while Albania and Cyprus are adding regasification and storage capabilities. Most of the attention, however, has been on Northern Europe where Germany, The Netherlands, Finland, and Estonia all moved to develop LNG import capabilities.
Germany energy company announced that its Wilhelmshaven LNG using an FSRU on charter from Höegh commenced regular operations yesterday, March 1, after the final acceptance of the audit by local officials. Uniper notes that the facility was built in record time and became the first German LNG import terminal to start operations on December 21, 2022, initially in trial operation and commercial operations as of mid-January. Around six percent of Germany's gas demand can be met via the terminal, which is one of five the German government committed to developing along with a sixth that was developed privately by Deutsche Gas in Eastern Germany.
The growth in FSRU operations is also contributing to strong demand both for new builds and conversion projects at shipyards.