Contract Awards for Vast EU Offshore Power Grid Reach $33 Billion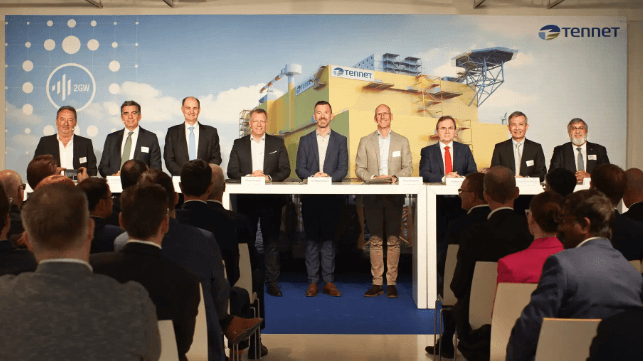 Transmission grid operator TenneT has completed the largest contract tender ever awarded in Europe for green transition infrastructure. Adding to an initial round announced in March, TenneT today signed deals with seven different industrial suppliers to build out the offshore wind power transmission system for the German and Dutch North Sea. The contract signing brings the total for all project awards to $33 billion.
"As the leading offshore transmission system operator in the EU, we have the know-how needed to make Europe's goal of securing an independent supply of renewable energies a reality. To achieve this, the North Sea must be developed as Europe's green power house and quickly connected to the electricity grids on land," said Tim Meyerjürgens, COO of TenneT.
TenneT needs to build out enough transmission capacity to handle 40 GW of wind power in Dutch and German waters, which will enable two-thirds of the 65 GW offshore wind energy target set by Germany, the Netherlands, Denmark, and Belgium. The scope of the overall project requires construction of 14 different power converter and transmission systems, and TenneT is bringing in most of the world's major offshore contractors in order to complete the work. (Chinese contractors were excluded from the Dutch segment of the project on security grounds, according th Upstream.)
In March, TenneT awarded an initial package of contracts to three consortia: Hitachi Energy/Petrofac, with six projects; GE/Sembcorp, with three projects; and GE/McDermott/Sembmarine, with two projects. The total came to $25 billion worth of industrial activity.
On Thursday, TenneT awarded an additional $8 billion worth of work for the last three systems to Hitachi Energy/Petrofac, GE/Sembcorp, GE/McDermott and Siemens Energy/Dragados. The core components of TenneT's proprietary 2GW power transmission system will be built in Europe.
The scope for each project includes offshore and onshore converter stations, along with TenneT's next-gen HVDC technology. The suppliers will start the preparatory work for the projects immediately to make sure that the system can be finished by 2031.
"Shorter contracting processes, large-scale tenders and standardization of solutions show how grid operators and manufacturers are already pulling together to get green energy to consumers faster," said Tim Holt, member of the Siemens Energy Executive Board. "However, in order for the industry to continue ramping up capacity, all available levers must now be pulled at the policy level as well – from raw material and skilled labor strategies to further streamlining permitting processes at all levels."