Containerships Takes Delivery of First LNG-Fueled Ship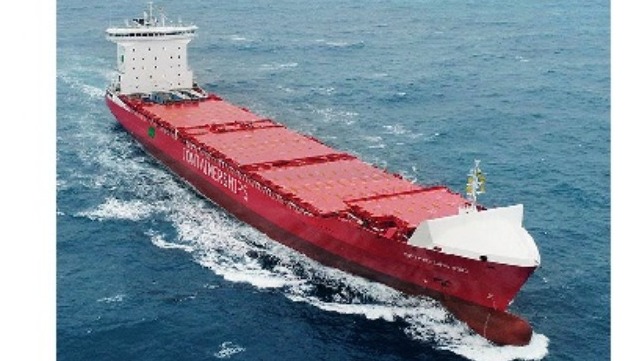 Containerships has taken delivery of its first LNG-fueled container ship, M/S Containerships Nord.
The 1,400 TEU vessel was built at Wenchong Shipyard, China, and three sister vessels are scheduled for delivery in the first half of 2019.
Containerships aims to create a complete, LNG based door-to-door supply chain in Europe with investment in both LNG-fueled ships and trucks. Containerships' parent company, CMA CGM, is also committed to LNG-technology and has sublet M/S Containerships Nord for its trade lanes. Collectively, the companies have 13 newbuilds powered by LNG on their order books to be delivered between 2018 and 2020. This includes CMA CGM's nine 22,000-TEU vessels on order with China State Shipbuilding Corporation.
The world's first LNG-fueled container ship is the Isla Bella, owned by TOTE, in partnership with General Dynamics NASSCO.
LNG bunker demand from the shipping sector is expected to be between 20 to 30 million tons annually by 2030, up from less than one million currently. Industry body SEA\LNG has highlighted the central role of LNG, not only in complying with the 2020 global sulfur cap, but for its potential to help achieve the IMO's target for a 40 percent reduction in carbon intensity by 2030 and total emissions by at least 50 percent by 2050.
LNG emits zero sulfur oxides (SOx) and virtually zero particulate matter (PM). Compared to existing heavy marine fuel oils, LNG emits 90 percent less nitrogen oxides (NOx). Through the use of best practices and appropriate technologies to minimize methane leakage, realistic reductions of GHG by 10-20 percent compared with conventional fuels can be achieved.
Bulk supply infrastructure for LNG already exists along the main shipping lanes, and LNG bunkering capacity is growing rapidly with at least 23 bunker vessels expected to be in service by 2020.