Contact: Harbor Master and Pilot Unaware of Fender Issue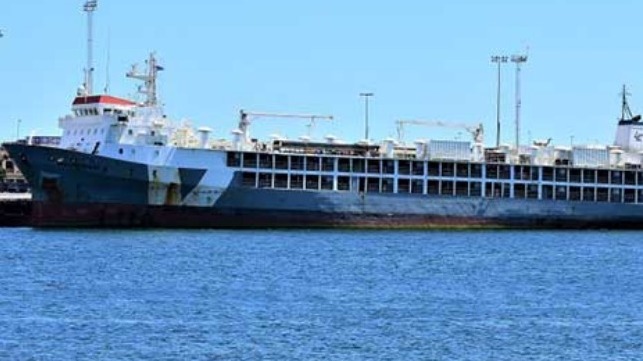 The Australian Transport Safety Bureau (ATSB) has released its investigation into the contact with wharf by livestock carrier Angus Express at the port of Broome, Western Australia, saying it highlights the challenging situations that marine pilots may encounter, and why it is important that local knowledge is captured and shared.
On April 20, 2018, the Angus Express had just completed a voyage from Singapore and was expected to load cattle. As the vessel came into berth, the weight of the ship against the forward Yokohama fender forced it to pass under the fender posts, which resulted in the ship's bow moving towards the wharf. Shortly after, an overhanging scupper protrusion made contact with the fender post.
The pilot thought that the ship had pivoted on the Yokohama fender and instructed the tug to push forward again, resulting in the forward Yokohama fender once again passing underneath the fender posts. The ship's bow again moved towards the wharf, and the scupper protrusion again made contact with the fender post. The harbor master subsequently attended and found minor damage to the ship's superstructure.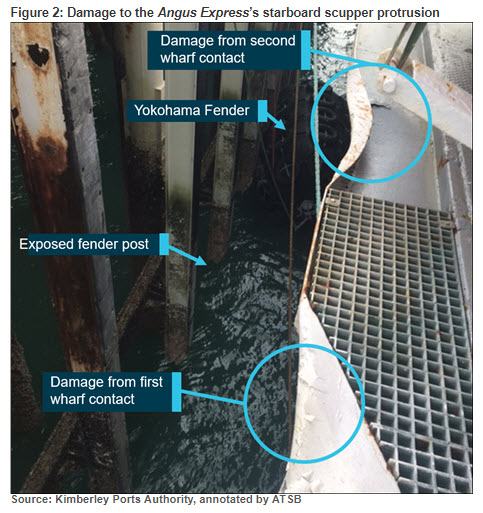 The ATSB investigation found that the fender posts were shorter than others in the port and at certain tide heights, could be forced down by a ship. A former pilot at the port advised that they had been aware of this, but that knowledge had never been documented or shared.
As a result of this occurrence, the Kimberley Ports Authority has implemented guidelines for berthing and being alongside when using Yokohama-style fenders at times of limiting low water levels. Also, harbor masters and pilots are to conduct risk assessments for circumstances such as tug shortages, vessel maneuvering issues and tidal levels.
The safety message from the accident is the importance of capturing and sharing lessons learned from experience. Marine pilots, in particular, may encounter operational parameters outside normal limits. Capturing the lessons through proper reporting process and sharing information through training and awareness can help to reduce risk and avoid future occurrences.
The report is available here.