Coast Guard Rescues Four Fishermen From Sinking Trawler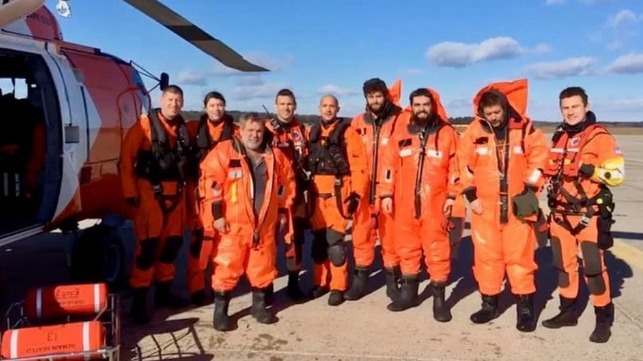 A U.S. Coast Guard helicopter rescued four fishermen Wednesday morning after they were forced to abandon ship off the coast of Rockland, Maine.
The captain of the trawler Aaron & Melissa II radioed watchstanders at Coast Guard Sector Northern New England at 0745 hours on Wednesday and reported that his boat was taking on water. The crew donned survival suits, activated their EPIRB and abandoned ship into an inflatable life raft.
An HC-144 Ocean Sentry aircraft and an MH-60 Jayhawk helicopter launched from Coast Guard Air Station Cape Cod and located the raft. Despite rough weather, a rescue swimmer deployed from the helicopter and hoisted all four survivors aboard. Conditions on scene included 10-foot seas, 30-knot winds, and a water temperature of 50 degrees.
The aircrew landed at Brunswick Executive Airport in Brunswick, Maine, where they were met by EMS personnel and transported to a nearby hospital. They were reported to be in good condition.
The cause of the vessel's sinking is under investigation.
The 1982-built Aaron & Melissa II also called for the assistance of the Coast Guard in August, after she became disabled off the coast of Portland, Maine. She received an emergency tow from the Coast Guard cutter Legare.