Coast Guard is Still Cleaning Up Boats After Hurricane Season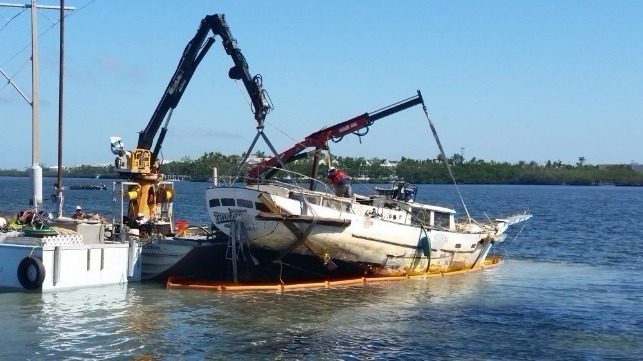 Sixteen weeks after Hurricane Irma made landfall in the Floriday Keys, the Coast Guard's cleanup efforts and removal operations for displaced vessels are still under way. Currently, 2,366 displaced vessels have been removed from Florida waterways, and 145 people from state and federal agencies are involved in the disaster response.
The unified command for the response, known as ESF-10 Florida, is leading the effort. The Coast Guard's partner agencies include the Florida Department of Environmental Protection, National Oceanic and Atmospheric Administration and Florida Keys National Marine Sanctuary. The responders are prioritizing the removal of vessels based on potential environmental impact.
"We are steadfast in our commitment to safety and diligent planning as our response crews continue working in the remaining affected areas along the east coast of Florida and the Keys," said Capt. Bryon Smith, FWC Incident Commander.
The USCG is encouraging boat owners to hire a salvage company to recover their own vessels in order to provide the safest removal method possible. Owners of displaced vessels who lack the resources to have their boat repaired, or if their vessel is determined to be beyond repair, can release ownership of their vessel through a waiver provided by the Florida Fish and Wildlife Conservation Commission.
These updated figures represent a combination of displaced vessels removed from the water by ESF-10 Florida and private owners: Miami Branch reports 265 vessels removed; Jacksonville Branch reports 163 vessels removed; and in the Florida Keys - the area of the state that was hardest hit - the local branch reports 1,667 vessels removed.
Response efforts continue in Puerto Rico
In Puerto Rico, the ESF-10 task force assigned to the island is still removing vessels that were damaged, beached or sunk by Hurricane Maria. The Coast Guard is focused on removing vessels that pose environmental threats, and is carrying out the work at no cost or penalty to the vessel owners.
So far, response teams have identified 375 impacted vessels, with 177 of those cases now closed. Teams have made contact with 217 owners, and responded to 34 pollution reports. Pollution prevention specialists have dewatered 7,050 gallons of oily water mixture and collected 4 cubic yards of oily debris from vessels. Salvage crews have recently removed vessels in Puerto Chico and Salinas, and inspection and outreach efforts are ongoing all over the island, from Fajardo on the east coast to Mayagüez on the west.