CMA CGM Offers $5.5B for Bolloré Logistics to Become Logistics Leader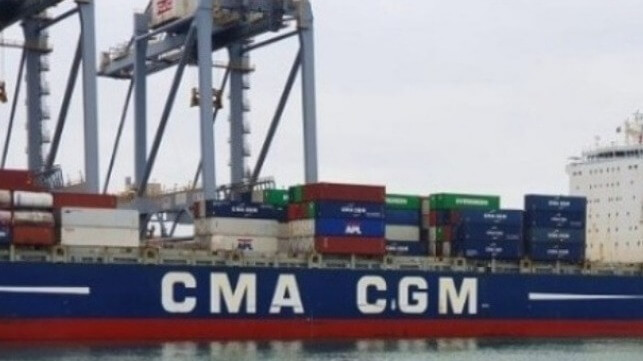 CMA CGM Group formalized its offer to buy the logistics operations of France's Bolloré Group in a deal which if completed values Bolloré Logistics at $5.5 billion and would make CMA CGM among the top five global logistics companies. The deal, which would be the largest in the 45-year history of the company is being called "a game-changing acquisition for CMA CGM's diversification into logistics."
The offer is being made in the form of a put option where CMA CGM finalized the terms after announcing on April 18 that it was in exclusive negotiations with Bolloré to buy the logistics portion of the group. Bolloré Logistics had revenues of more than $7.7 billion as a leader in the transport of luxury goods, fragrances and cosmetics, healthcare, aerospace, and defense sectors. Bolloré Group reports it has accepted "this put option strictly as an offer."
The process will involve meetings with representatives of the employees as well as seeking regulatory approval for CMA CGM to acquire the logistics business, which would be merged with CEVA Logistics. Experts are questioning if there could be antitrust concerns given that CEVA already operates over 900 warehouses with 10.3 million square meters and would be adding 115 warehouses with more than 900,000 square meters of space.
CMA CGM reports the combined companies would have an annual shipping volume equivalent to more than two million TEUs of sea freight and 0.8 million tons of air freight. The combined operations of CMA CGM Group's logistics activities and Bolloré Logistics would have revenues of approximately $24 billion based on 2022 results.
Bolloré says that it will make the decision whether or not to exercise the put option once it has completed the process and regulatory review. The put option contemplates a price of approximately $5.1 billion after the minority interest and debt. The final price would be adjusted at closing for the debt and cash on hand in the company. Bolloré contemplates that the deal could be completed in the first half of 2024.
The deal would create an even more efficient and competitive integrated transport and contract logistics solution said Bolloré. The group has been moving to divest operations, including its 2022 sale of its African ports and logistics operations to MSC, as the conglomerate focuses on its media investments. After the sale, it would also retain Bolloré Energy, a distributor of petroleum products in France. Bolloré Logistics is the company's second largest business.
"For the CMA CGM Group, this acquisition would represent a major step forward in its development of a full range of solutions supporting customers' supply chains through handling end-to-end transport and logistics," the company said announcing the offer. In addition to the size of the combined operation, CMA CGM points out that the combination would open up access to major logistics hubs, especially in France and Asia for its logistics operations.
The deal would continue CMA CGM's previous acquisitions in the logistics sector, including Ingram Micro Commerce & Lifecycle Services and Colis Privé, then part of GEFCO, which boosted CEVA's capabilities in eCommerce contract logistics and automotive logistics. Similar to the strategy being followed by A.P. Moller – Maersk, CMA CGM since 2019 has been working to diversify its shipping operations with the development of its logistics activities.