CMA CGM Joins Competitors in Planning EU ETS Surcharges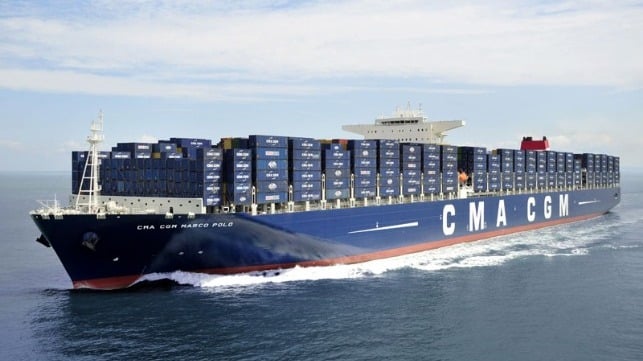 With just three months until the European Union's Emissions Trading System is officially extended to the shipping industry, the major carriers are working to explain its impact to customers and advise them of coming surcharges. CMA CGM is the latest to release a customer advisory estimating the costs to shippers following both Maersk and MSC that issued alerts last month.
"From January 1st, 2024, shipping lines will be required to report their emissions and purchase an equivalent amount of allowances on the EU ETS market," writes CMA CGM seeking to explain how the system operates, its application to shipping, and how these charges may impact customers. They explain that all maritime services with at least one call within the EU are going to be covered by the system with 100 percent of emissions for trips between two EU ports but only 50 percent of emissions for trips between EU and non-EU ports.
Hapag explains to its customers that shipping companies are expected to surrender enough allowances to cover all their emissions. They however warn as do their peers that the allowance acquisition will trigger an added cost for shipping companies that is going to be applied as a separate surcharge for cost recovery purposes.
"Hapag-Lloyd welcomes the addition and views it as a key step towards setting uniform standards that will help both the environment and people. We aim to set up a customer-friendly solution that enables a calculation of costs for our customers that is causal, transparent and easy to understand – and that clearly displays the EU ETS added costs' levels," they wrote in a September customer advisory.
Similarly, CMA CGM now writes that "in order to better deliver value and greater cost transparency," CMA CGM has decided to alert of the pending surcharge. They advise that the actual surcharge will be published in mid-November and that they will review it quarterly. CMA CGM estimates the range for the coming surcharges between €25 and €43 per TEU and as high as €65 for reefers.
Hapag also provided estimates of the surcharge for customers to begin planning. They set the range between €7 and €17 per TEU and as high as €31 for reefers. The rates vary for each of the carriers based on the geographic routes.
Maersk explains to its customers that the EU ETS is determined based on the vessel rather than cargo. As of 2024, they explain that ship operators will be required to monitor and report their emissions and surrender allowances for every ton of CO2e they emit. They used a different scale for their estimates, basing it on 40-foot (FFE) boxes. They are presenting a wider range for dry cargo starting at €11 and many major routes rising to over €80 and one route to West Africa reaching a whopping €152. Maersk's average surcharge is estimated at €52 for dry cargo and €78 for reefers. A year ago, Maersk said that it foresaw significant customer expenses from the EU ETS.
In addition to the sliding scale that progresses from 40 percent next year to 70 percent and all emissions in 2026, Maersk notes that as of 2026 the ETS regulations expand to include nitrous oxide and methane emissions. "Although the immediate impact of this expansion is limited, it sends an important signal to encourage the use of renewable fuels in the future," concludes Maersk.
CMA CGM also warns customers that some aspects of the EU ETS law are yet to be finalized and could be revised in the future. Key among these is the final list of transshipment ports which determines how they will be treated in the ETS calculations.
Previously, other major shipping companies had also warned customers that the implementation of the EU ETS would result in surcharges. MSC advised customers a year ago but if yet to release updated data on its surcharges.