Classic Tug Caps a 50-Year Career With a Cocaine Run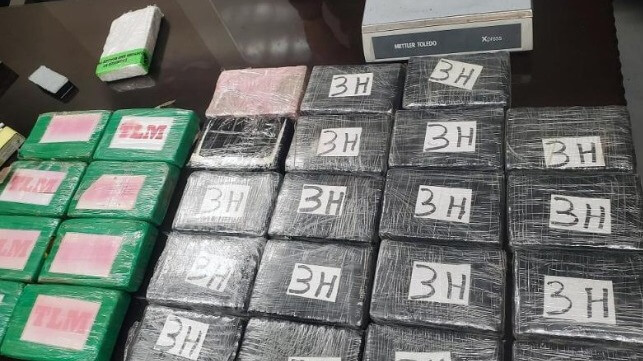 An aging tugboat has ended its career in style with one last voyage as a drug-runner, according to authorities in Tenerife. The 50-year-old oceangoing tug Sea Paradise spent decades working for Hess, but her most recent operator allegedly decided to use the hardworking vessel to transport 2.3 tonnes of cocaine.
Sea Paradise began life as the Turquoise Bay, a large 1,100 GT tug built for Amerada Hess. She was delivered by the now-defunct Yarrows yard in Esquimalt, British Columbia in 1973, and she remained in service with Hess until 2016. In more recent years, Turquoise Bay went through several names, owners and flag registries, ending up as Sea Paradise in May 2023.
In mid-September, she left her longtime home port in the Dominican Republic and sailed south to Aruba, a smuggling hotspot just off the Venezuelan coast. AIS data shows that she loitered off the island for days, then returned northwards to the Dominican port of Barahona. Here, on October 6, her AIS trail went dark, according to data provider Pole Star.
Last weekend, Sea Paradise reappeared - this time in Tenerife, and in police custody. The Drugs and Organized Crime Unit (Udyco) of the Policia Nacional intercepted the vessel in international waters and found 2,300 kilos of cocaine on board, valued at approximately $69 million. The nine crewmembers on board were arrested and are being held without bail pending trial, reports Spanish outlet El Dia.
Sea Paradise may have an extensive history of legitimate trade, but she is the latest in a long string of smuggling vessels that have wound up on the wrong side of the law in the Canary Islands. The waters around the archipelago are a busy region for ship-to-ship drug transfers, and smuggling boats from South America pass by Tenerife regularly. This is one of many routes that organized crime groups use to ferry cocaine from South America to Europe, where the drug is worth 15 times more.
Just this Tuesday, a court in Tenerife sentenced two convicted smugglers to nine years and a fine of about $25 million for attempting to conduct a boat-to-boat drug transfer off El Hierro, the chain's westernmost island. In early March, the Guardia Civil and Policia Nacional intercepted the stateless boats at a position about 250 nm offshore, and they found about 550 kilos of cocaine aboard.