Chinese Team Wins Volvo Ocean Race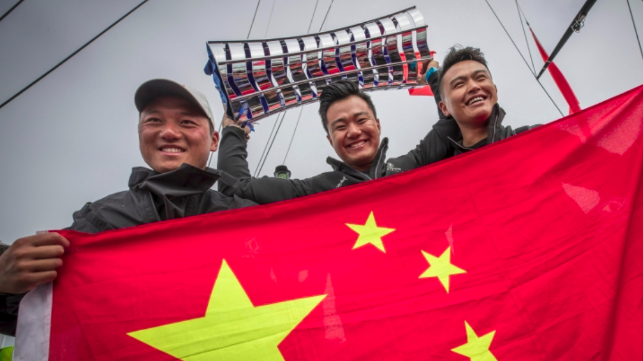 On June 24, the Chinese-flagged Dongfeng Race Team won the Volvo Ocean Race 2017-18 in the closest finish in the event's 45-year history. It is also the first time that a team from China has won the race.
Dongfeng only took first place on the 11th and final leg of the 45,000 nm round-the-world race, but it was enough to put them over the top. Skipper Charles Caudrelier decided on Saturday evening to take a coastal route to the finish line at The Hague. His course put them tight against the shoreline and separated from the other leaders by a series of exclusion zones. The strategy cost them initially, but on Sunday morning, they found an advantage due to weather, even though their competitors were in front of them. They made a sprint for the finish and won the 840-nm leg by a margin of just 15 minutes.
"We were not in such a good position, but we trusted our choice and we pushed," Caudrelier said. "The others didn't follow us, but we believed and we won . . . We knew that we would fall behind initially and that if it came good it would only be at the end."
Dutch skipper Simeon Tienpont and his team AkzoNobel took second place on the final leg into The Hague, and they secured fourth place on the overall leaderboard.
"It's incredible to finish on the podium in our hometown," Tienpont said. "We would have loved to have been fighting into The Hague for the final podium but to have set the 24-hour speed record and to get six podium finishes in the race is a testament to the job everyone on our team – on the boat and on shore – have done."
Volvo Ocean Race final leaderboard:
1. Dongfeng Race Team – 73 points
2. MAPFRE – 70 points
3. Team Brunel – 69 points
4. team AkzoNobel – 59 points
5. Vestas 11th Hour Racing – 39 points
6. SHK / Scallywag – 32 points
7. Turn the Tide on Plastic – 32 points