Chinese Squid Jigger Sinks After Collision with Spanish Trawler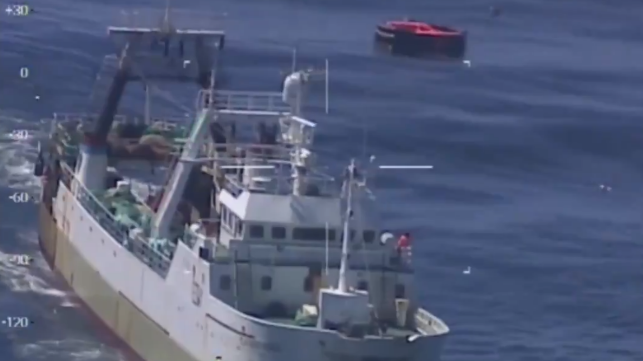 The Spanish trawler Pesca Vaqueiro has rescued all 30 crewmembers of the Chinese fishing vessel Zhongyuanyu 11, which sank off Comodoro Rivadavia after colliding with the Vaqueiro.
The collision occurred Friday at a position about 10 nm beyond the edge of Argentina's EEZ, according to the Argentine Navy. The agency diverted the coast guard cutter GC-24 Mantilla, which was patrolling the EEZ boundary about 80 nm to the north, to rendezvous with the Zhongyuanyu and render assistance. However, the Chinese vessel went down before the Mantilla's arrival, and the 30 fishermen on board were rescued by the Vaqueiro.
Emergencia mar adentro: Están a salvo todos los tripulantes de los buques que colisionaron ?cuando el pesquero chino Zhongyuanyu 11 activó una señal de alarma tras haber colisionado con el buque español Pesca Vaqueiro a unos 16 km afuera de la Zona Económica Exclusiva. pic.twitter.com/7x2cvvVKJ7

— Prefectura Naval Arg (@PrefecturaNaval) February 15, 2019
The Vaqueiro carried the survivors to shore at the Port of Montevideo, Uruguay, where local officials helped the rescuees make contact with their respective embassies and with the appropriate local agencies. Maritime authorities at Montevideo debriefed the crew of the Pesca Vaqueiro and have launched an investigation into the casualty.
The Vaqueiro suffered minor damage at the bow above the waterline, and none of her crewmembers were harmed in the incident.
The Zhongyuanyu and other foreign fishing vessels (marked by orange dots) lined up along the Argentine EEZ boundary (Argentine Navy)
The Argentine EEZ boundary off Comodoro Rivadavia runs through a rich fishery teeming with squid, and distant-water fishing vessels regularly gather in the area just beyond Argentine jurisdiction (above). The region is known locally as "milla 201" - or "mile 201" - in reference to its location outside the 200-nm boundary, and the Argentine Navy patrols the line to keep down the number of vessels operating illegally in Argentine waters. Last February, the Argentine cutter Mantilla opened fire on a non-compliant Chinese squid jigger, sparking a minor diplomatic incident.