Chinese Shipyards Led 2022 Orders Including Growth in LNG Segment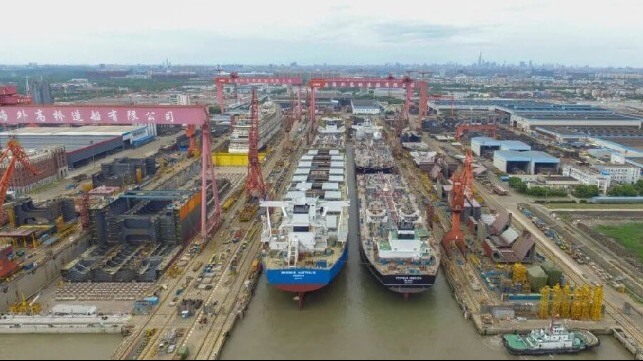 Analysts are reporting that 2022 was another strong year for newbuilding orders although the pace as expected slowed from 2021. As volumes declined, prices for new construction orders remained competitive, especially placing the South Korean shipbuilders under financial pressure. Industry sources are however reporting that prices have begun to rise on future orders as the shipbuilding outlook remains positive.
According to research firm Clarksons Research, total orders in 2022 were just under 42 million compensated gross tons (CGTs). This represents a 22 percent decline from the record overall pace for new orders in 2021. Last year's strongest growth had come in the containership sector, which slowed in 2022 while demand for LNG gas carriers skyrocketed to record levels.
The competition continues between the South Korean yards and China's shipbuilding industry. Clarksons calculates that Chinese shipbuilders received 49 percent of the orders placed in 2022 (20.34 million CGTs), which means for the second year running they received the highest volume of shipbuilding orders. The Chinese yards were able to catch up to South Korea, which had been leading the newbuilding pace early in the year, and overcome the challenges related to COVID-19. Shipyards in the Shanghai area had been impacted by China's lockdowns in the city that began in March. China State Shipbuilding Corporation (CSSC), the world's largest shipyard conglomerate, was reported to have suspended operations at Shanghai Waigaoqiao Shipbuilding, Jiangnan Shipyard, and Hudong-Zhonghua Shipbuilding in mid-March. The company, however, emphasized that they had redoubled efforts after the lockdowns.
South Korea's shipbuilders led by Hyundai's Korea Shipbuilding Offshore & Offshore Engineering, Samsung Heavy Industry, and Daewoo Shipbuilding & Marine Engineering, as well as a rebound for the mid-sized yards, set a record for their backlog but came in second for the year with total orders of approximately 15.64 million CGT. That was equal to 37 percent of the global orders. The South Korean shipbuilders had led the industry for three years before falling behind starting in 2020.
Some of the slippage for the South Koreans came in part because their orderbooks are already scheduled into 2026. Analysts noted that some shipping companies seeking quicker delivery times had turned to the Chinese yards or mid-sized yards which were able to offer earlier deliveries.
The Chinese used this as an opportunity to build their market share for the construction of gas carriers, a segment historically dominated by South Korea. In 2022, Clarksons calculates there was a 130 percent increase in the tonnage ordered primarily for LNG carriers. Of the total 14.52 million CGT ordered, 70 percent or over 10 million CGT went to the South Korean yards. A large portion of this was tied to Qatar's move to expand production and LNG exports.
The South Korean shipyards continued dominance in the market for LNG carriers, helped South Korea which reported its order volume was down by 11 percent, half the overall global decline in new orders. China however was able to grow its share of the LNG carrier segment to approximately a third of the volume (4.4 million CGT which was 30 percent) of the orders in 2022. This was up from just seven percent market share in 2021. This inroad into the segment is especially challenging for the South Koreans which are focusing on high-value orders with the LNG carriers being among the most profitable ships to build. This fall the price for new LNG carriers reportedly reached a record with DSME reporting an order valued at $252 million for an LNG carrier due for delivery in 2026. Order prices had been around $230 million with further volume discounts on some of the biggest orders.
LNG carriers made up the majority of the newbuild orders for South Korea's big three shipbuilders representing approximately two-thirds of the 2022 contracts. Second were containerships which accounted for 27 percent of the volume or 4.26 million CGT. South Korea's three large shipbuilders reported no orders for new bulk carriers.
The Chinese shipbuilders by comparison reported a third of their orders were for containerships (6.76 million CGT or 33 percent of the total orders) followed by 22 percent of the orders in China were for LNG carriers and 16 percent of the volume ordered was for bulk carriers. The Chinese builders offer relatively lower prices for containerships and tankers with analysts noting the Chinese yards have been aggressively seeking productivity gains to maintain their lower prices in those segments.