Chinese Salvors Prepare to Examine Tanker Wreck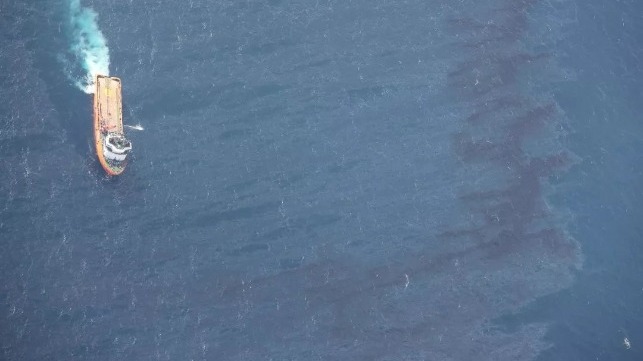 On Wednesday, China's Ministry of Transportation announced that it has found the wreckage of the tanker Sanchi in 380 feet of water. A remotely-operated vehicle will conduct an investigation of the wreck site.
Two long, narrow oil slicks remain on the water near the Sanchi's final resting place in the East China Sea, with a total coverage of over 40 square miles. The pollution is a combination of bunker fuel from the Sanchi's tanks and her cargo of lightweight natural gas condensate. Samples taken from the vicinity found heavy petroleum, and the concentration in some areas exceeded unspecified quality limits. Chinese state media report that response vessels are carrying out oil recovery efforts and have evacuated nearby merchant traffic from the area.
The Japan Coast Guard said that the spill appears to be diffusing and disappearing over time, in line with expectations about the condensate's volatile nature. Japanese and South Korean officials said that they were not concerned about the prospect of the oil reaching shore. "From the area where the tanker sank, a sea current is heading to the north, limiting the chances of the oil slick reaching Japanese coasts," one Japanese official told Reuters.
Sanchi had about one million barrels of condensate on board when she collided with the bulker CF Crystal on January 6, and it is unclear how much of the cargo burned up or evaporated during the seven days she was on fire. The final explosion and foundering last weekend led to what was likely the largest release of condensate in history.
The bodies of three members of Sanchi's crew were recovered by SAR teams, and the remaining 29 mariners on board are presumed dead. Chinese Foreign Ministry spokesperson Lu Kang said Monday that the crew likely died within an hour of the collision, and he highlighted the efforts of Chinese responders to reach survivors despite the slim odds and extreme risks. "I would like to express my respect and appreciation to all rescuers for the bravery and professionalism they showed during the process," he said.