Chinese Navy Conducts First Drills With Myanmar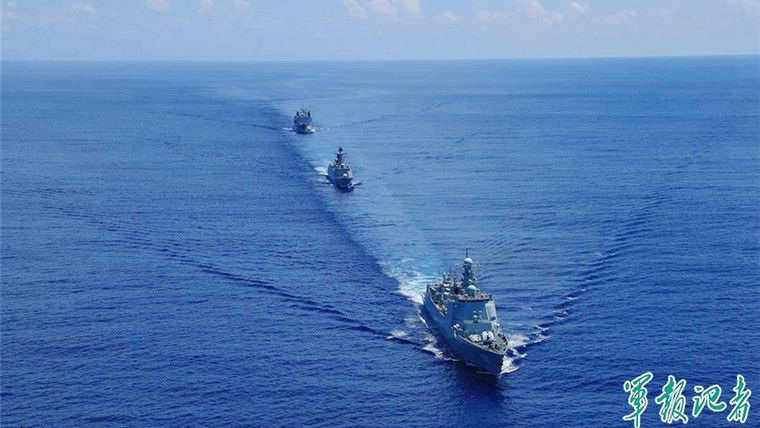 Three Chinese naval vessels are making a goodwill tour of 20 nations along the route of China's "21st Century Maritime Silk Road," and last Thursday, they arrived in Yangon for the PLA(N)'s first-ever naval exercise with the Myanmar Navy.
According to Chinese state-owned media, the destroyer Changchun, the frigate Jingzhou and the auxiliary vessel Chaohu were in Myanmar's waters for four days. They conducted a variety of exercises with the Myanmar Navy, focusing primarily on communications and search and rescue.
The Chinese vessels' next port of call is Chittagong, Bangladesh, and they will continue on for a six-month tour of Asia, Europe and Africa. It will be the longest goodwill tour that a PLA(N) task force has ever undertaken.
China has a strategic maritime interest in Myanmar: state-owned CITIC Group wants to purchase an oil receiving terminal in Rakhine State, a key link in China's energy security strategy. The new terminal and an associated pipeline are just entering into operation, and they could eventually carry about five percent of China's oil imports overland, bypassing the Strait of Malacca. In return for an agreement on the sale of the terminal, CITIC is said to be willing to drop claims related to a controversial dam project in northern Myanmar.
An expansion of China's maritime power
The naval exercises followed shortly after China's high-profile "Belt and Road Forum" in Beijing, which brought together leaders from around the world to discuss Chinese-led economic development initiatives. Xinhua noted that the Myanmar exercises also began on the same day that The Association of Southeast Asian Nations agreed to a new framework for a South China Sea "code of conduct."
Over the past decade, China has generally disregarded the territorial-seas provisions of the United Nations Convention on the Law of the Sea (UNCLOS), which limit sovereign waters to 12 nm from shore and EEZs to 200 nm. Instead, it has conducted a campaign to build fortified islands on far-flung reefs and atolls in the Spratly Islands, despite a ruling from the Permanent Court of Arbitration that declared China's sweeping claims invalid. Under the new draft framework, ASEAN and China will work towards a regional code of conduct for maritime affairs in the South China Sea. So far, the framework "does not involve substantive terms," according to Chinese state-owned Global Times, and reports suggest that the final product of the talks may be non-binding.