Chinese Fishing Vessels Ram Korean Coast Guard Boat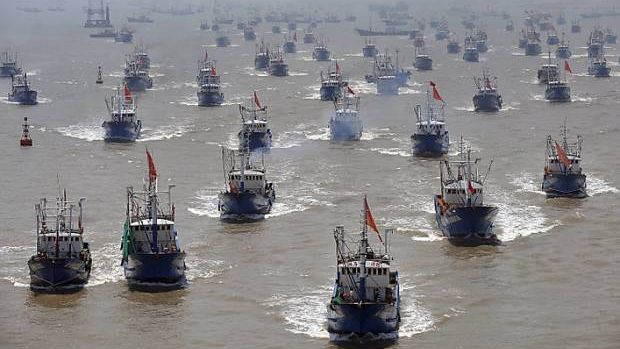 South Korean authorities issued a formal diplomatic protest Monday regarding the Chinese fishing vessels that rammed and sank a Korean Coast Guard boat last week.
On Friday the South Korean coast guard was attempting to interdict an illegal fishing operation off of the island of Socheongdo, where they say 40 Chinese fishing vessels had gathered. The Coast Guard alleges that during the operation, two fishing vessels intentionally ran down a Korean 25-foot speedboat, forcing one officer into the water. The serviceman was rescued unharmed.
The Korea Herald said that the head of the Coast Guard's central region described the ramming as "attempted murder."
The Chinese vessels suspected of ramming and sinking the speedboat reportedly escaped into Chinese waters, and Seoul appealed to the government in Beijing to arrest the fugitive ships and their crews.
Clashes over fishing in the waters off Incheon have resulted in many fatalities over the years. In September, three Chinese fishermen died in a fire after the Coast Guard used flashbang stun grenades during a forced boarding, likely igniting a blaze in the deckhouse. One fisherman was shot and killed in October 2014; another died after being hit by rubber bullets in 2012. A South Korean coast guard officer was stabbed and killed during an interdiction mission in 2011, and another was struck and killed in 2008.
Lawmakers in South Korea's parliament called Monday for a tougher response to illegal Chinese fishing vessels.
"The violent, illegal activities by Chinese fishing boats are beyond a tolerable level. I would say they are not fishermen but pirates," said Representative Woo Sang-ho of the opposition Minjoo Party, as reported by Korea Times.
Aggressive attempts by Chinese fishermen to enter foreign waters are being met with increasing force in many countries around the world. In March, Argentinian coast guard forces fired on and sank a Chinese trawler after it allegedly attempted to ram a patrol ship; Indonesian authorities have taken to regularly blowing up or sinking seized fishing boats, including Chinese vessels, a policy that has won widespread domestic approval.