China, South Korea Reach Deal to Curb China's Illegal-Fishing Fleet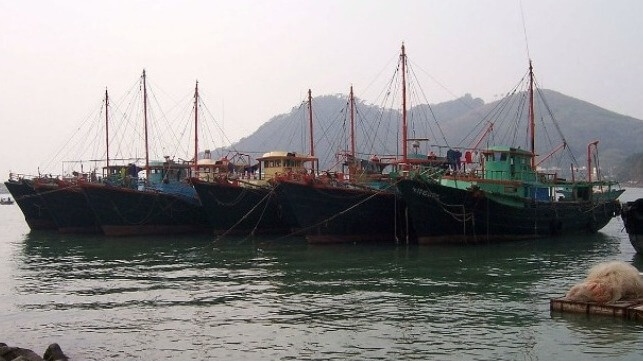 China and South Korea have agreed to work together in curbing the longstanding problem of IUU (Illegal, Unreported and Unregulated) fishing in the East China Sea. The agreement was reached following a high-level meeting last week involving senior fisheries officials from the two countries.
South Korea agreed to work with China in reporting Chinese boats illegally fishing in the North Korean waters in the East China Sea. China must also notify South Korea of the results of its investigation and follow-up measures, according to the Ministry of Oceans and Fisheries, South Korea.
Over the years, there has been concern over the scale of Chinese fishing activity in North Korean waters in the East China Sea. According to a report by the Korean Maritime Institute, the amount of squid caught by South Korean fishers between 2014 and 2018 (a period when IUU fishing spiked in the East China Sea) declined from 163,000 tons to 46,000 tons. This could hint to degradation of marine fisheries.
China has banned its fishing boats from operating in North Korean waters, as it is party to the UN Security Council Resolution 2397 adopted on December 2017. It prohibits North Korea from selling or transferring fishing rights to foreign fishers.
Under the new cooperation agreement, South Korea has also called on China to make it mandatory for Chinese fishing vessels to install AIS (Automatic Identification System).
In addition, China and South Korea decided to expand the areas subject to their joint patrols against illegal fishing starting next year. Currently, they only carry out joint inspections against IUU fishing in the Provisional Measures Zone (PMZ), an area where fishing boats of the two neighbors can fish.
"We will continue to strengthen cooperation with the Chinese government to stamp out illegal fishing by Chinese boats and to proactively manage marine resources," said Kim- Won bae, an official in South Korea's Ministry of Oceans and Fisheries.
China and South Korea have a fisheries agreement dating back to 2001. It created cooperation in the use and conservation of marine resources within the EEZs of the two countries in the East China Sea and the Yellow Sea. However, Korean fishermen have become discontent with the influx of Chinese fishing vessels in this region, which at times creates tension due to claims of illegal fishing.