China's "Trail-Blazing" Import Expo Opens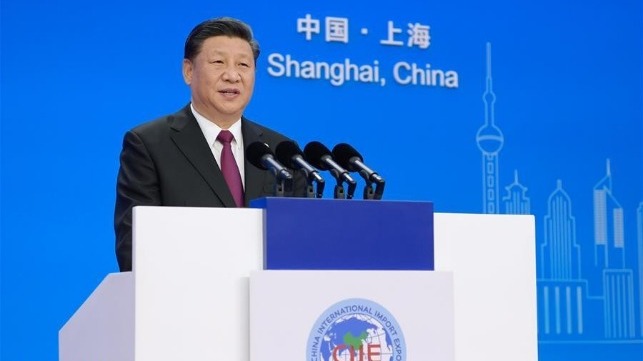 China is holding it's first international import expo in Shanghai between November 5 and 10, and Chinese President Xi Jinping opened the event calling it a "trail-blazing" move in the history of international trade development.
The nation's China International Import Expo is "a major measure for China to take the initiative to open its market to the world," Xi said. "All countries should be committed to opening up and oppose protectionism and unilateralism in a clear-cut stand."
With the slogan "New Era, Shared Future," the expo is the brainchild of Xi who anticipates win-win economic cooperation between the nations and companies attending.
Xi said that China's imported goods and services were estimated to exceed $30 trillion and $10 trillion, respectively, in the next 15 years, reports China Daily. China has been the world's second largest merchandise importer for nine consecutive years.
"China will not close its door to the world and will only become more and more open," Xi said.
Announced at the May 2017 Belt and Road Forum in Beijing, the expo is part of an attempt to shift the nation's trade strategy from export promotion and trade surpluses to "balanced trade." In particular, the strategy aims to obtain high technology equipment to develop high technology industries and a sophisticated service sector in China, and to supply consumption goods and services such as food, tourism and education to meet the demands of China's growing middle class.
The is being held at the National Exhibition and Convention Center (Shanghai), the world's largest single block building and exhibition complex with a total construction area of nearly 1.5 million square meters. Facilities include exhibition halls, a commercial plaza, office buildings and a hotel. The four facilities are linked together by an eight-meter-high elevated Exhibition Boulevard to facilitate pedestrian access around the Center.
China is hosting approximately 2,800 companies from over 130 countries, including 50 along the Belt and Road, to showcase products to 160,000 domestic and international buyers. China has granted "Guest of Honor" status to 12 countries: Brazil, Canada, Egypt, Germany, Hungary, Indonesia, Mexico, Pakistan, Russia, South Africa, Vietnam and the U.K.