China's Sinopec Plans to Build Refinery at Port of Hambantota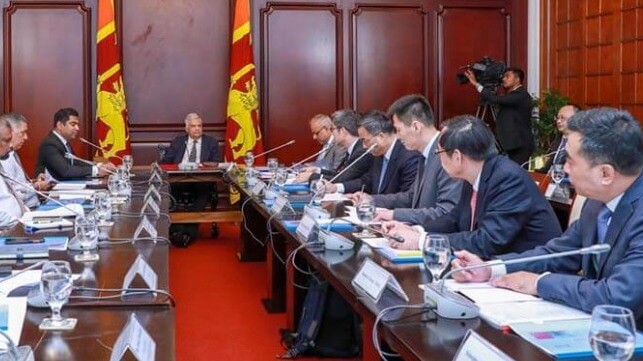 As it climbs back out of a protracted forex crisis, Sri Lanka appears set to get a new petroleum distribution hub and refinery at the Chinese-operated port of Hambantota, courtesy of Chinese state oil company Sinopec.
Last year, Sri Lanka's foreign exchange shortage made it difficult for the government to import enough oil to continue to operate its primary refinery, located in Sapugaskanda. Gasoline, diesel and cooking fuel all ran short on the island in mid-2022, contributing to the ouster of then-President Gotabaya Rajapaksa in popular demonstrations in July.
In the intervening months, donor nations have helped to plug the gap with loans and grants. In February, the government of Japan gave Sri Lanka 20 million liters of diesel worth about $45 million in order to ensure continuity of energy supplies at the island nation's hospitals. The electrical grid's power supply has been intermittent over the past year due to breakdowns and fuel shortages.
To address its precarious financial state, Sri Lankan government is currently waiting on a $2.9 billion bailout package from the IMF, and it received necessary support for this debt relief program from its Chinese lenders on March 9. On March 13, President Ranil Wickremesinghe met with a delegation from Chinese state-owned oil company Sinopec to discuss the construction of an oil distribution hub and refinery in Hambantota, where Chinese state-owned port operator CMPorts holds a 99-year operating lease. According to the president's office, Sinopec is prepared to fully fund the construction of the refinery.
Sinopec and CMPorts both sent official delegations to Sri Lanka this month to look at business opportunities, according to the Chinese embassy in Colombo. The search for investments at the same time as ongoing debt-relief talks has echoes of an earlier deal: in 2018, CMPorts bought control of Hambantota Port through the year 2117, providing the Sri Lankan government with $1.1 billion to repay debt. The government of former Sri Lankan President Mahinda Rajapaksa had taken out an $8 billion loan from Chinese banks to fund Hambantota's construction, and Sri Lanka was struggling to make payments.
The addition of an oil refinery or distribution hub at Hambantota has been under discussion since at least 2017, and proposals for its potential scale have ranged from a $3 billion complex to a $20 billion behemoth.