China's Hospital Ship Visits Nations That Stopped Supporting Taiwan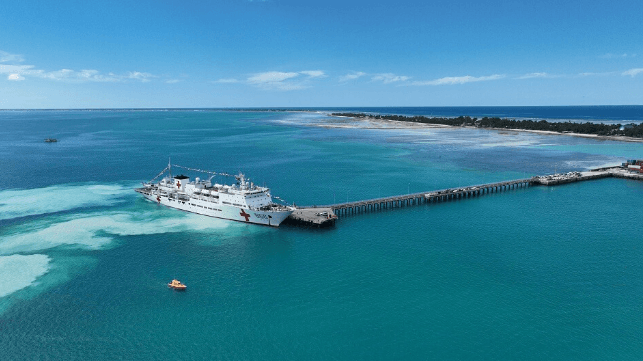 China's hospital ship, the PLA Navy vessel Peace Ark (Daishan Dao), has completed a goodwill tour of the Pacific Islands and returned to home base at the port of Zhoushan.
Over the span of 79 days, the ship and her crew visited Kiribati, Tonga, Vanuatu, the Solomon Islands and East Timor. During the "pragmatic" mission, the crew and medical complement "used boundless love and superb medical skills to serve as messengers of health, peace, and friendship," according to state news outlet Xinhua.
In 2019, Kiribati and the Solomon Islands both ended official diplomatic recognition of Taiwan, conforming to China's insistence that its partners recognize "One China" based in Beijing. The itinerary of the Peace Ark has previously been linked to China's priorities on the Taiwan question. After Grenada cut diplomatic ties with Taipei in 2005, the Chinese hospital ship called at the small Caribbean nation twice to provide medical services.
"The deployment of the Peace Ark hospital ship to weaken Taiwan's diplomatic ties may be an example of how naval diplomacy can in some cases aim, in part, to strengthen the CCP's political narrative and vision of unification," argued RAND researcher Timothy R. Heath in a paper for the China Maritime Studies Institute in 2020.
None of the nations visited on this year's voyage recognize the independence of Taiwan. The ship's itinerary passed by Tuvalu and Nauru, which are among the handful of states that still maintain full relations with Taipei.
Peace Ark served about 41,000 patients over the course of the whirlwind tour, according to the PLA, and performed nearly 200 operations and 25,000 exams. It also dispatched teams to shoreside facilities and (in four cases) to outlying islands.
Dr Eileen Natuzzi, who has worked on capacity-building in healthcare in the Solomon Islands for two decades, argues that hospital-ship diplomacy - whether American or Chinese - is more a public-relations event than a long-term solution. The port calls at large seaports are a high-profile statement, but when the ship departs, the populace may view their own (often under-resourced) local providers as "inferior."
"If they wanted to be really effective they should be going to the atolls . . . but they don't do it because it's not as visible," she told The Guardian.