China's First Hydrogen Fuel Cell Vessel Enters Service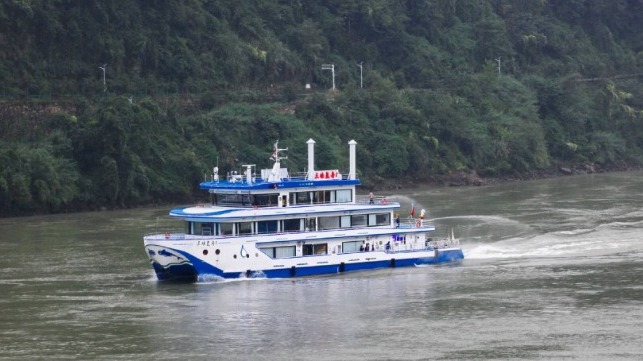 China has placed its first hydrogen fuel cell-powered vessel into service. Officials from the Three Gorges Corporation, which will be operating the vessel as a demonstration ship, are calling it "a breakthrough in the application of hydrogen fuel cell technology in inland waterway ships." The Chinese media has also been calling it the world's largest hydrogen vessel completed to date.
Known as the Three Gorges Hydrogen Boat 1, the vessel completed its maiden voyage on October 11 operating from the Three Gorges Visitor Center in Yichang, Hubei Province. The vessel will now be used for transportation in the Three Gorges Reservoir area and between the Three Gorges and Gezhouba dams. It can also be used for inspections in the area or emergency response.
The vessel was launched in March and reportedly is outfitted with a 500 kW hydrogen fuel cell system. It also employs a 1,800 kWh lithium battery system for power storage. Chinese officials are estimating that its operation will replace over 103 tons of fuel and reduce carbon emissions by 343 tons per year.
Three Gorges Hydrogen Boat is 164 feet long with a 33-foot beam. The catamaran hull is built of steel with an aluminum superstructure. The vessel can transport up to 80 passengers on three decks. The vessel is reported to have a top speed of approximately 17 miles/hour with a maximum range of 124 miles. It will operate at a speed of approximately 12.5 miles/hour.
China's first-ever hydrogen fuel cell-powered boat has completed its maiden voyage in Hubei, China. #hydrogen #ship #technology #China pic.twitter.com/EZNYypK5MZ

— China Xinhua News (@XHNews) October 11, 2023
The vessel was built by China State Shipbuilding with work starting on May 17, 2022. It was designed by a group consisting of the China Three Gorges Group, the Yangtze River Three Gorges Navigation Administration, and the China Shipbuilding 28 Research Institute. The China Classification Society also participated in the project and provided the class documentation for the vessel to enter service.
To support the operations, Three Gorges also officially put into operation the Green Electricity and Green Hydrogen Demonstration Station. It will supply the energy needed for the vessel's propulsion system. As China's first inland dock-type hydrogen production and refueling station, officials said it can supply 240 kilograms of hydrogen per hour.
Three Gorges' goal is to promote the large-scale commercial application of hydrogen fuel cell-powered ships in China. This vessel will be used to demonstrate the potential of hydrogen propulsion.
The new vessel follows last year's introduction of Yangtze Three Gorges 1, a vessel that is promoted as having the largest battery capacity. The vessel is powered entirely by its batteries and recharges from land-based stations. Three Gorges reports in its first year of operation the battery-powered vessel has carried over 130,000 tourists consuming more than 900,000 kilowatt hours. It reduced carbon emissions by more than 700 tons.
Chinese officials have described a plan to build a fully electric network to support the operation of a new generation of inland vessels.