China Retrofits Bulker with First Domestically-Built Wind Rotor Sails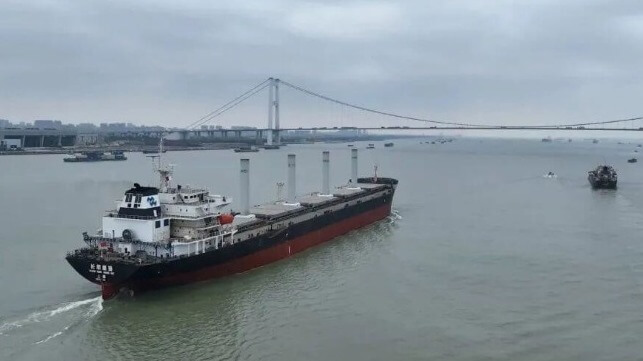 China State Shipbuilding (CSSC) is reporting that it completed the first installation of a domestically designed and built rotor on a commercial ship as a prototype of the technology. The pictures show four rotors retrofitted between the hatches on a bulker.
The installation project was completed at CSSC's Chengxi Shipbuilding Co., with a decade old 45,500 dwt bulker fitted with the rotors. The vessel, the Chang Hang Sheng Hai, was built in 2012. It departed the CSSC shipyard on June 17 to return to service as part of the demonstration project for the technology.
The vessel, which is 623 feet in length, has four rotors each standing approximately 80 feet in height with a diameter of 10 feet. They appear to be the latest adaptation of the Flettner rotor concept developed a century ago by German engineer Anton Flettner harnessing the Magnus effect documented by German physicist Gustav Magnus, who explored fluid dynamics.
CSSC reports the marine wind boosting rotor project was led by Xixi and jointly developed by several units completing the theoretical research, principal prototype development, and testing. The project lasted three years also working on the engineering prototype design, manufacturing, installation, and commissioning. The installation on the vessel is the next step in further testing and verification.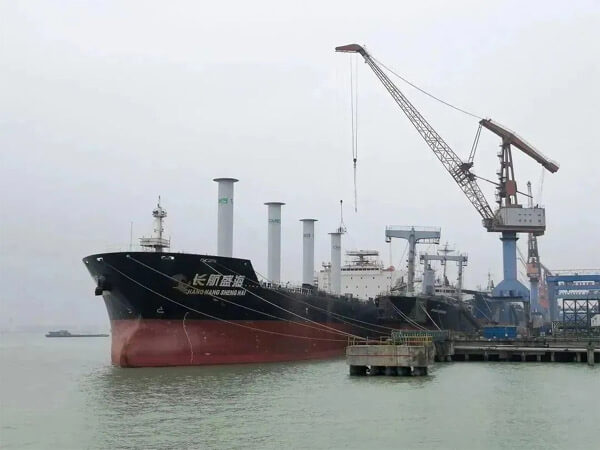 Rotors were retrofitted to a bulker built in 2012 (CSSC)
They report that their tests show the rotors will provide more than a five percent energy saving and commensurate reduction in emissions. They believe the technology will be best suited to bulk carriers and large oil tankers.
China's entry into the segment comes as Finland-based Norsepower and UK-based Anemoi Marine Technologies have been moving forward with efforts to expand their commercialization of the technology. Both companies have reported pilot projects to demonstrate their versions of the technology.
Anemoi reported in October 2022 that it had reached a deal with China's COSCO Shipping Heavy Industry Co. to offer customers the option to install Anemoi's Rotor Sails on newbuild vessels or retrofit during dry dock in any of COSCO's nine shipyards.
Norsepower reported in March 2023 that it had raised €28 million in additional investments that will be used to scale up production and expand the reach of its fuel-saving and emissions-reducing technology. Norsepower highlights that it has 250,000 operating hours of verified performance data acquired from installations in collaboration with customers including Bore, Sea-Cargo, Scandlines, Vale, CLdN, Nippon Marine, and Socatra. Norsepower has estimated that there are currently 30,000 vessels on the water that can benefit from the installation of rotor sails.