China Lands Military Aircraft at Disputed Island Base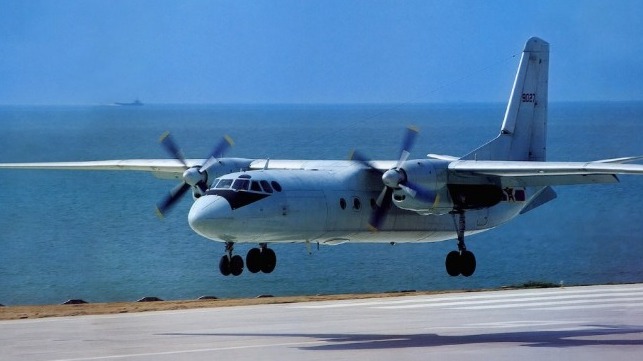 Newly published photos show what appear to be two Chinese Xian Y-7 military transport aircraft parked at the airfield on Mischief Reef, a Chinese-built installation on a disputed South China Sea land feature.
In 2015, Chinese President Xi Jinping pledged that China had no intention of militarizing its bases in the South China Sea. However, in December 2016, satellite imagery revealed that air defense weaponry had been installed on several of China's installations in the Spratly Islands. Last week, in a rare direct acknowledgement, a spokesman for China's ministry of defense asserted that China has a "natural right as a sovereign nation" to deploy its forces to the new bases. The new photos may be further confirmation that Beijing will openly use its artificial islands for military purposes.
The images were released by the Philippine Daily Inquirer, and the Philippine government says that it is working to corroborate the presence of the military aircraft. If accurate, the deployment could prompt a diplomatic protest, said foreign affairs secretary Alan Peter Cayetano. The Philippines has called for all parties in the Spratly Islands to roll back their military presence.
Joint exploration
Despite its competing claims in the Spratly chain, the Philippines is increasing its economic ties with China, including a plan for joint exploration for oil and gas in the South China Sea. Philippine President Rodrigo Duterte and Chinese President Xi Jinping reached agreement on joint E&P efforts last week in a meeting in Hainan.
Malaysia and Vietnam also have claims in the area, and both governments have expressed concern that a Philippine-Chinese joint venture could strengthen China's hand as it attempts to assert sovereignty over the South China Sea. Vietnam is also negotiating with China on joint E&P efforts, but only after pressure from Beijing forced it to cancel its own lease agreement with Repsol.