China Claims Discovery of Ancient Wrecks in South China Sea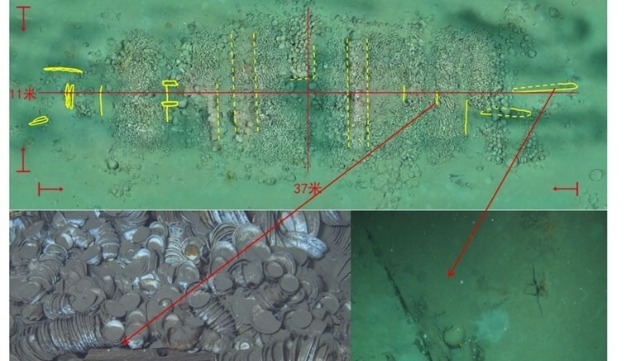 Chinese researchers have discovered two shipwrecks dating back to the 1500s in unusually deep water in the South China Sea, according to China's National Cultural Heritage Administration (NCHA).
The wrecks, dubbed No. 1 and No. 2, are located just off the southern tip of Hainan Island. They sit at a depth of about 1,500 meters below the surface, making them the deepest Chinese wreck finds in the South China Sea.
Sonar survey data reveals limited signs of the ships' hull structures, but their wares are neatly laid out on the bottom in rows.
The first ship contained porcelain ware from the Ming Dynasty. "The cargo was mainly Jingdezhen kiln porcelain, and it is speculated that it was a private merchant ship that departed from Fujian or Guangdong and headed for a trade transit point such as Malacca," said Song Jianzhong, research librarian of the NCHA's Archaeological Research Center.
The second ship carried a cargo of logs - possibly ebony from Malacca, according to Song. (Ebony is dense enough to sink in water.)
The discovery complements China's political objective to establish a record of past Chinese activity in the South China Sea. Beijing claims sovereignty over the overwhelming majority of the South China Sea under its "nine-dash-line" policy - including the waters of its neighbors' exclusive economic zones - based on a history of Chinese presence and navigation in the region. The Permanent Court of Arbitration in the Hague has dismissed this claim as inconsistent with international law, which defines sovereignty based on physical distance from land, not presence on the water.
"This major discovery proves the historical fact that China's ancestors developed, utilized, and traveled to and from the South China Sea," said Song. He emphasized that this was the first time that researchers have found two ships in the same area but headed in opposite directions - one proving a history of export trade and the other proving import trade.
The Global Times, a state-owned English language outlet, said that many of the artifacts have clear dates and serve as "a crucial testament to China's ancient Maritime Silk Road trade and cultural exchanges."