China Accuses US Authorities of "Harassing" Crewmembers During a Port Visit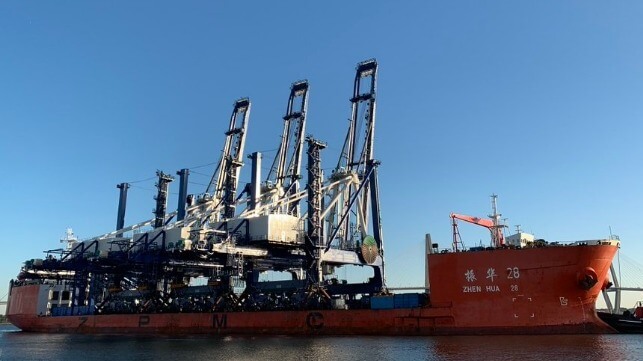 A report in Chinese media followed up by a spokesperson for China's Foreign Ministry is accusing the U.S. Coast Guard and law enforcement of "harassing" Chinese crewmembers during a recent port call in the United States. China has reportedly voiced its concerns to U.S. officials, saying that it will "take all necessary measures to resolutely safeguard the legitimate rights and interests of Chinese citizens."
The incident stems from a late July port call by a Hong Kong-registered, Chinese-owned, heavy lift vessel Zhen Hua 28 (47,000 dwt) to Jacksonville, Florida. The media reports are calling the actions of the U.S. Coast Guard and U.S. Customs and Border Protection "unreasonable searches and harassment." The Global Times in what it calls an "exclusive report" claims USCG boarded the ship before it docked and stayed with the ship during its arrival. Further, they claimed that crewmembers were questioned if they were members of the Communist Party, the military, or the government, and some of their personal electronic devices were seized and not returned.
Asked about the media report, a spokesperson for the Foreign Ministry, Wang Wenbin, told reported in Beijing on Tuesday, the crew encountered "unreasonable interrogation and harassment." He alleged that the U.S. has used various pretexts to set up barriers to the entry of Chinese citizens into the United States following what he called a "Cold War mentality."
Records show that the U.S. Coast Guard conducted a standard inspection of the vessel on July 26 at Jacksonville. The previous inspection in the U.S. was in 2019 and records show the ship has not had a Port State Inspection since December 2021. The Zhen Hua 28 has undergone five standard USCG inspections in the past decade. There are no listed deficiencies or detention as a result of the most recent inspection.
Customs and Border Protection conducted a standard examination given to any foreign nationals seeking to enter the United States. The Chinese are accusing the U.S. of collecting "biometric information," on the crewmembers such as facial images and fingerprints.
The vessel is a heavy lift carrier often used to transport Chinese cargo cranes to ports around the world. While it is a commercial vessel, reports indicate that it has also participated in PLA military exercises. In February 2021 vessel was reportedly used in a Chinese Army multi-modal training exercise in the Yellow Sea.
The Chinese reports are saying that the inspections by the U.S. "delayed" the ship's operations and caused "significant disruption" to the ship's subsequent operations and the crew's regular work and life.
AIS data shows that the vessel departed Jacksonville on August 3, bound for Shanghai.