Chao Confirmed as U.S. Secretary of Transportation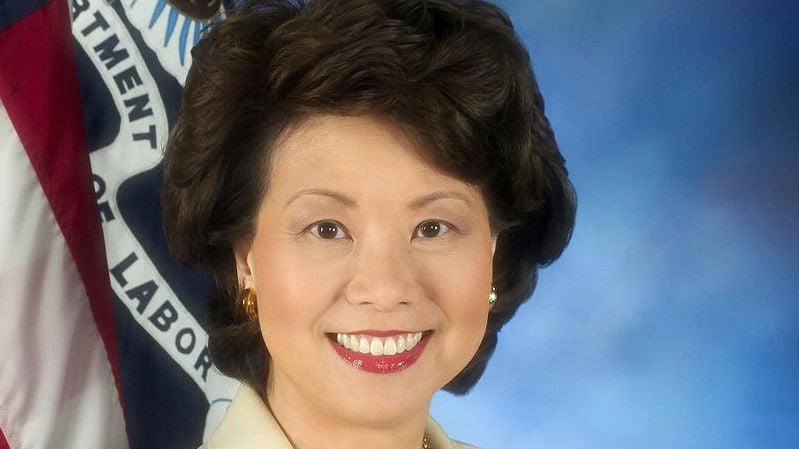 Elaine Chao has been confirmed as the 18th U.S. Secretary of Transportation by a vote of 93 to six.
Chao, the wife of Senate majority leader Mitch McConnell, will be taking over the Department of Transportation after previously acting as Undersecretary of Transportation. She is expected to focus on the trillion dollar infrastructure bill proposed by U.S. President Donald Trump.
The plan is to spend $1 trillion over the next 10 years to repair old bridges and roads, expand bus and rail systems, modernize ports, highways, airports, schools and more. The proposal includes $70 billion to modernize America's ports, airports and waterways.
Chao was the 24th U. S. Secretary of Labor, serving from 2001-2009, and was the first American woman of Asian descent to be appointed to a President's Cabinet.
Senator Tom Carper of Delaware, a Democrat on the Senate Environment and Public Works Committee, said he's "pleased that, unlike many of the individuals that President Trump has nominated to the highest posts in government, Secretary Chao takes this position with a background in transportation issues and previous experience running a federal agency."
Alliance for Innovation and Infrastructure Executive Director Kevin Gluba said: "Secretary Chao is proven leader whose distinguished record of service to our country demonstrates the commitment required to serve as Secretary of Transportation. She has seen first-hand the challenges our country faces when it comes to rebuilding our nations aged and crumbling infrastructure, and Aii looks forward to working with Secretary Chao to expand the safe use of innovative transportation technologies and enhance the roll public-private partnerships play in funding infrastructure development."
The American Association of State Highway and Transportation Officials (AASHTO) applauded the appointment: "We congratulate Elaine Chao on her confirmation as U.S. Transportation Secretary and stand ready to work with USDOT to continue efforts to rebuild and modernize America's aging transportation infrastructure," said AASHTO Executive Director Bud Wright. "In her confirmation testimony, Secretary Chao said she believes the Trump administration will support more federal funding for infrastructure as well as private financing. AASHTO agrees that a balanced approach to transportation investment will be required to fully support America's transportation system into the future."