Central Arctic Ocean Receives Fisheries Protection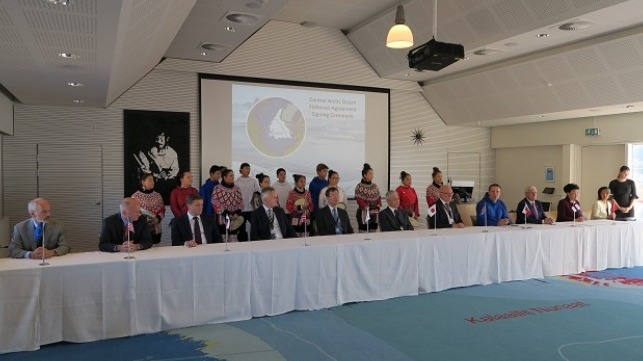 The Greenland Minister for Fisheries, Hunting and Agriculture Erik Jensen has hosted a signing ceremony for an international fisheries agreement:The Agreement to Prevent Unregulated High Seas Fisheries in the Central Arctic Ocean.
The agreement protects 1.1 million square miles of the Central Arctic Ocean from large-scale commercial fishing and will be in effect for at least 16 years while scientific research is conducted into how climate change is affecting this region's marine life.
Signatories are Canada, the United States of America, the Russian Federation, the Kingdom of Norway, the Kingdom of Denmark in respect of the Faroe Islands and Greenland, Iceland, the European Union, the Republic of Korea, Japan and the People's Republic of China.
The main features of the agreement are:
- No fishing activities are allowed in the Central Arctic Ocean before a regional fishery management organization (RFMO) is established, which will set scientific based quotas and regulations for the fisheries;
- Strengthening scientific cooperation in the long term to gain knowledge about changes ecosystems and fish stocks of the Central Arctic Ocean;
- Recognizing Arctic indigenous peoples' interests, the value of their and local peoples' knowledge in decision-making processes and to secure indigenous and local peoples' participation in the process going forward;
- Consensus-based decision-making;
The Agreement will come into force when ratified by all parties.
In 2015, the U.S., Canada, Norway, Greenland and Russia issued a declaration that they would voluntarily refrain from fishing in the high Arctic. They also pledged to seek a binding agreement with non-Arctic countries that operate commercial fishing fleets in distant waters.
Similar precautionary Arctic fisheries plans were put into place by the U.S. off the northern coast of Alaska in 2009 and by Canada in collaboration with Inuvialuit officials in 2014.
In 2012, more than 2,000 scientists from around the world called on Arctic countries to take precautionary action in the Central Arctic Ocean. And in 2014, the Inuit Circumpolar Council called for a fisheries moratorium in these waters until adequate scientific research and management measures could be ensured.
Although commercial fishing has not yet begun in the Central Arctic Ocean, increased melting of Arctic sea ice in recent summers has resulted in open water in up to 42 percent of the area covered by the agreement.
A new analysis of satellite ice data for the Central Arctic Ocean prepared by Ocean Conservancy reveals that between 2010 and 2017, the average minimum thickness of sea ice in this region was 60 percent less than in the 1980s. At the same time, the amount of open water each September between 2010 and 2017 rose to an average of 22 percent as compared to one percent in the 1980s. In 2012, it reached a record high of 42 percent open water.
"This agreement is being signed just in time for this newly accessible sea," said Henry Huntington, Arctic science director for Ocean Conservancy. "Arctic sea ice is no longer a year-round barrier to the Central Arctic Ocean so this agreement to send in scientists before commercial fishing ships is a promising sign for the Arctic's future."